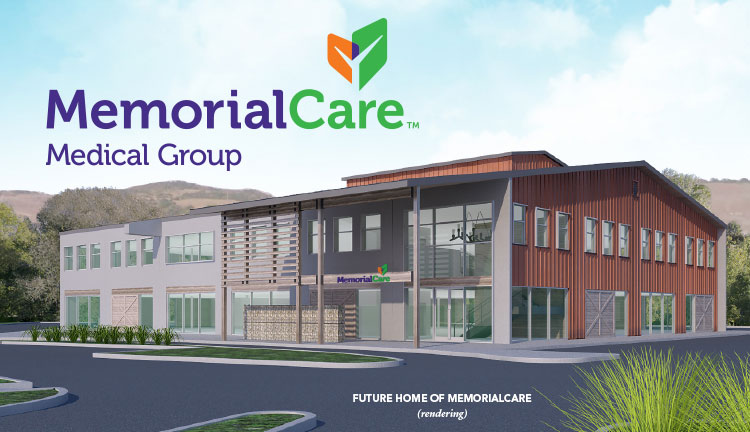 MemorialCare Medical Group
Coming Soon to
Sendero Marketplace
MemorialCare Medical Group
If you are looking for top-rated physicians to help keep your family healthy, MemorialCare Medical Group (MCMG) delivers. MemorialCare Medical Group physicians were ranked number one in Orange County in the 2018 statewide Patient Assessment Survey, which measures overall patient satisfaction with medical groups.*
In addition to top-ranked physicians, MCMG also offers you a broad selection of primary care physicians and specialists in south Orange County. The current Rancho Mission Viejo facility, located in the Gelson's shopping center at Sendero Marketplace, offers primary care and walk-in medical services. In August 2019, a brand-new health center will open nearby. This two-story, state-of-the-art health center will offer:
Primary care

Pediatric care

Specialty care

Cardiology

Pain Management

X-ray services

Saddleback Medical Center Breast center

Lab services
Providers in the Rancho Mission Viejo health center emphasize overall wellness and preventative care. 
Mark Schafer, MD, CEO of MemorialCare Medical Group says "Physicians at MemorialCare Medical Group are dedicated to delivering high-quality health care to patients. We also want to make accessing care as convenient as possible. That is our primary goal when planning new health centers." In partnership with Saddleback Medical Center, the future health center will offer a variety of specialty services such as asthma consultations, orthopedic services, cardiac testing, lab services, breast center, EMT diagnostics, EKG tests, digital X-ray and ultrasound.
In the event of a minor medical incident, patients within the community can also seek non-emergency care and treatment for common illnesses at the San Juan Capistrano Urgent Care Center. Located just three miles from Sendero Marketplace on Rancho Viejo Road, the Urgent Care Center is open 7 days a week, including holidays. MemorialCare Urgent Care physicians will see patients right away, with no appointment or prior authorization needed.
A Proud Member of MemorialCare
MemorialCare is a nonprofit integrated healthcare delivery system which includes four top hospitals, two medical groups, a health plan, and numerous outpatient health centers, imaging centers, surgery centers and dialysis centers. As a member of MemorialCare, MemorialCare Medical Group is dedicated to providing quality compassionate care to patients in Orange and Los Angeles Counties.
With healthcare locations across the Southland, MemorialCare Medical Group serves over 660,000 patients annually. Overall, the group includes roughly 250 physicians practicing in areas such as: internal medicine, family medicine, pediatrics, pulmonology, gastroenterology, neurology and more. MCMG accepts most major HMO, PPO, EPO, POS and some covered California plans, as well as Medicare, Tricare, Medicare Advantage and Supplemental plans.
MemorialCare Medical Group strives to offer top-notch, personalized healthcare options to each and every community within the MCMG network. In order to develop long-lasting relationships with their patients, many MCMG providers choose to live near the area where they serve, so they can participate in community events and activities on a regular basis.
In addition to its multiple health centers, MemorialCare Medical Group also provides Urgent Care Centers that are open 365 days a year, and Telephone Advice Nurses available 24 hours a day, 7 days a week. In fact, 85% of patients within MemorialCare Medical Group are Urgent Care and walk-in cases transitioning to permanent primary care physicians.
MemorialCare Medical Group patients can access the entire MCMG network through its EMR (electronic medical records) portal, myChart. Powered by Epic Systems software, myChart makes it easy for patients to log into the network from any digital device to schedule appointments, view medical history, refill prescriptions and message your physician directly. In doing so, myChart heightens around-the-clock care as patients can review their online medical information anytime, anywhere.
In an effort to streamline medical staff communication, myChart allows for integrated messaging between doctors and specialists at separate locations. It also consolidates patient records into a digital, one-chart system that can be used by MCMG health centers and offices.
When you are weighing your health care options, look to MemorialCare Medical Group. You can trust its family to take care of yours.