FACT:
The Local DISH

®

Magazine
is an established publication that has been serving South Orange County since 2007. As the only monthly, direct-mail magazine delivered to all single-family homes in Dana Point, San Juan Capistrano, San Clemente and select neighborhoods of Laguna Niguel, we're uniquely positioned to hyper-target local consumers and produce results for our advertising partners. Increase your bottom line and advertise with
The Local DISH

®

Magazine
today!
Advertise Locally in South OC Today!
Dana Point, San Juan Capistrano, San Clemente and Laguna Niguel
Simply Call and Speak to Matt Today! 949.337.3875
or eMail: Matt@TheLocalDishMagazine.com
WHY ADVERTISE WITH THE LOCAL DISH?
Because direct mail works and it's easy to track your ROI.
The Local DISH

®

Magazine
is an established, monthly, direct mail consumer magazine targeting high-income, owner-occupied homes in South Orange County. Our full-color, glossy publication creates an exciting visual that captures the attention of our readers.
The Local DISH's

®
editorial content is hyper-local, featuring community events, restaurants, music and area businesses — offering a unique, hometown perspective. When our clients advertise with us, they often see an immediate upwards bounce in their sales. Find out today what
The Local DISH

®
can do for you and your business!
CIRCULATION: 50,000+ MONTHLY
The Local DISH

®
has a monthly circulation of 50,000. Over 45,000 copies are mailed to single-family homes in Dana Point, Laguna Niguel, San Clemente and San Juan Capistrano, thoroughly saturating the communities most vital to your business. Direct mail distribution through the United States Postal Service provides a verifiable method of distribution. 5,000 single copies are available for pick-up at 40 highly visible rack locations throughout the local community.

:
The Local DISH® is now offering a convenient and cost-effective vehicle to drive customers to your business through DISHDEALS. Generate additional exposure for your business by offering exclusive deals that are delivered directly to our subscribers' inboxes. We will customize your offer to provide you with the flexibility to maximize results. DISHDEALS is a real-time opportunity to drive new and existing customers to your business.

ONLINE: THELOCALDISHMAGAZINE.COM
The Local DISH® serves its advertising partners with branding and promotional opportunities online. Skyscraper ads and listings in the online Directory provide additional vehicles to market your business to local residents.

SOCIAL MEDIA:




The Local DISH® is committed to connecting you with more of your potential customers through real-time offers and communications on Facebook, Twitter, YouTube and Instagram.
LISTEN TO OUR ADVERTISERS:
Advertising in The Local DISH® has been well worth it for my business. We had a 270% ROI (advertising cost vs. revenue) and that will continue to increase over time because we experience an extremely high percentage of repeat customers. Matt and his team are responsive, reliable and provide great service!
—Kimberly Simons, Owner, Camp Bow Wow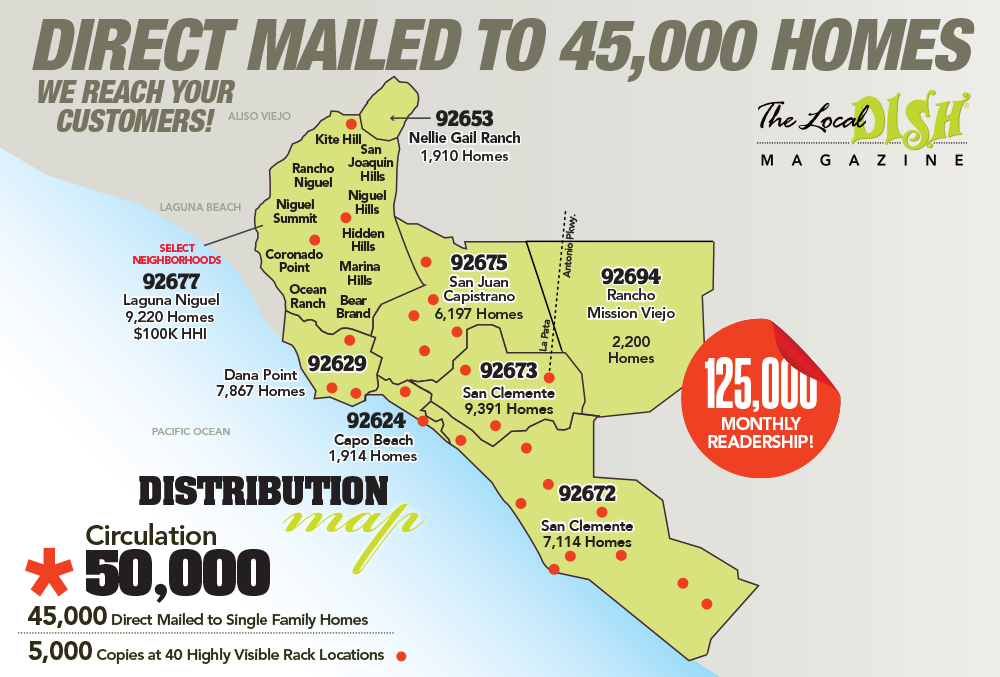 DISTRIBUTION AREA
Direct Mail / Racks:
50,000 Single Family Homes Direct Mailed Monthly
10,000 Copies at 40 Highly Visible Rack Locations
Click here for Ad Specifications