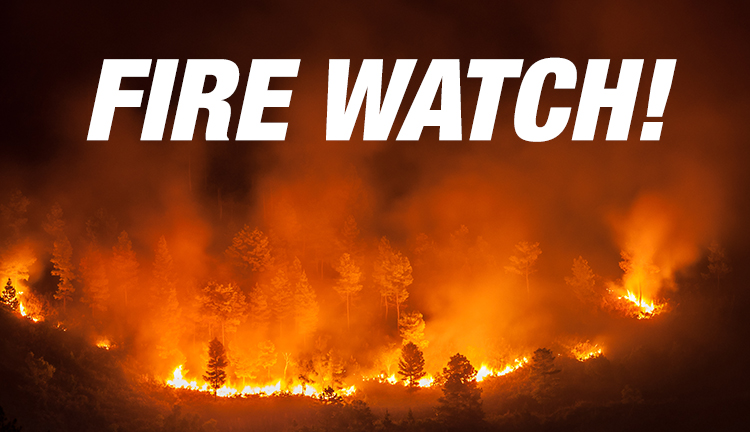 Orange County Fire Watch Exercise Deployment June 24
Fire Watch volunteers embark on a full-scale mock deployment across the Irvine Ranch Natural Landmarks in preparation of wildfire season.
Orange County, Calif. (June 19, 2017) – The Orange County Fire Watch program will hold a full-scale deployment exercise on Saturday, June 24 on the Irvine Ranch Natural Landmarks. The deployment exercise aligns with the 10th anniversary of the Santiago Canyon wildfires, and will give volunteers an opportunity to visit new Fire Watch locations and prepare for the coming dry season. Facilitated in partnership with OC Parks, City of Irvine, City of Newport Beach, Irvine Ranch Conservancy and Orange County Fire Authority, the Fire Watch volunteer program helps raise awareness on the risk of wildfires through education, early reporting, and deterrence.
Fire Watch staff have held emergency communications tests for volunteers in the past, but the upcoming deployment will be the first large-scale exercise for the program. The exercise is expected to include more than 100 Fire Watch volunteers and will be held across 34 Fire Watch locations on or near land managed by the Irvine Ranch Conservancy, including the new coastal zone that includes Buck Gully and Newport Coast Drive Lookout.
"This is our first full-scale deployment exercise," commented Tony Pointer, Irvine Ranch Conservancy Program Coordinator for Fire Watch. "The deployment is designed to give volunteers access and encouragement to see Fire Watch locations they may not usually monitor. Considering this is the 10th anniversary of the Santiago Canyon fires, it seems more appropriate than ever to take a proactive approach."
Fire Watch program volunteers monitor the Irvine Ranch Natural Landmarks and beyond by observing the perimeters of high-risk areas throughout Orange County. They deploy to specific locations determined by fire spread research and historical ignition data, and are trained to report suspicious or dangerous activity. Volunteers also assist with early detection and public outreach, and Fire Watch staff created the upcoming deployment exercise to be as realistic as possible. Actual deployment of Fire Watch volunteers occurs on Red Flag Warning days, Santa Ana Wind events, and/or in other special circumstances.
The exercise comes following near-record rainfall this past winter, which Pointer noted has aided the growth of nonnative grasses and invasive weeds in the region, which could dry out and become fodder to fuel wildfires.
"The rain we received has assisted the vegetation that has not had the best conditions to sprout and grow the last few years," Pointer said. "The potential will be a combination of the increased vegetation growth and how hot and how severe the Santa Ana wind conditions will be this year."
The simulation will begin June 23, the day prior to the field exercise, when volunteers will receive a recorded phone message alerting them to the staged Fire Watch conditions. After the call, volunteers will sign up for shifts at various locations throughout Orange County. Once onsite, volunteers will arrive in full uniform with vest, Fire Watch car magnets, IDs, and data logs, and participate in a full test report. Two hour shifts begin at 9 a.m. and conclude at 3 p.m. on June 24, and volunteers will engage with the public and report any situations that may cause accidental or intentional ignitions.
"Holding a large-scale exercise like this will be hugely beneficial, designed to broaden the volunteers' knowledge of the Fire Watch locations and strengthen their skill set," Pointer said.
For more information on the Fire Watch program and volunteering opportunities visit www.letsgooutside.org/activities/fire-watch/. For more information on the Irvine Ranch Natural Landmarks visit www.LetsGoOutside.org.