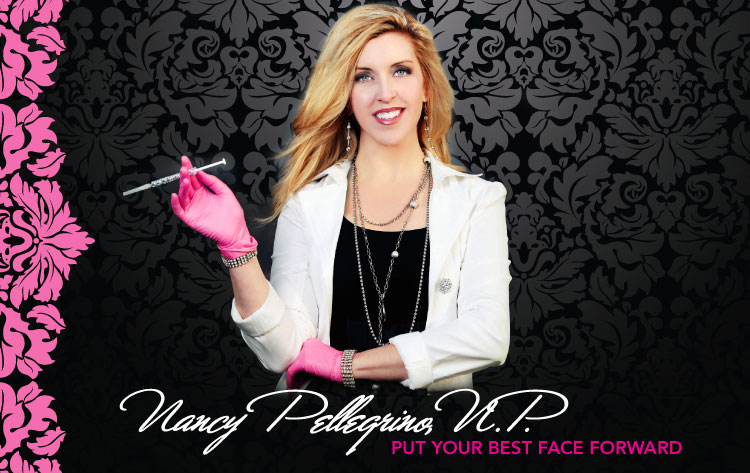 Nancy Pellegrino, N.P.

For Nancy Pellegrino, N.P., skin care is serious business. As the face behind some of Orange County's most prominent and most recognizable men and women (including some you may have seen on a certain TV reality series featuring OC housewives), she's sought out by a loyal following of moms and movers and shakers for her well-honed expertise in aesthetic medicine.
With Nancy Pellegrino's 13 plus years of experience as a Nurse Practitioner specializing in skin care treatments and procedures, she's one of the go-to-gurus in Orange County. Pellegrino has performed over 10,000 injections of Botox® and Juvederm® since 1999 and offers the full spectrum of skin care procedures and products at her practice.
Nancy's results-oriented approach to achieving a natural, more youthful you, starts with the basics – having the best skin possible. She believes strongly that fabulous looking skin is the foundation from which a beautiful face evolves. "I offer my client's visible results; it's really that simple. It's not necessary to overwork skin with an abundance of lotions, potions, scrubs and rubs…selecting the right products for your skin care regimen, a diligent use of sunscreen and addressing the inevitable signs of aging are the essential components." She adds, "Many patients that I consult with for the first time are unaware of the tools and technology that are now available for skin care issues that were formerly untreatable. Patients who once believed that surgical procedures were the only solution are now thrilled with the alternatives I can offer."
Nancy's years of experience, advanced education and professional training give her patients a certain peace of mind when sitting in her chair. "It takes more than a medical license and knowledge of facial anatomy to be successful in my field. Injecting Botox®, for example, is a skillful art; the ability to understand optimal placement and appropriate dosage are paramount to achieving a natural look and safe outcome. This type of expertise is only acquired through hands-on experience over an extended period of time," says Nancy.
Nancy is known for implementing a "less is more" philosophy when treating patients. "I strive to deliver consistent, natural results that appear subtle and unnoticeable. I know I've done my job well when the outcome makes my client look well-rested, refreshed and underdone. The best compliment is when others comment on how great a client looks after visiting my office, but they can't quite pinpoint what's different," confides Nancy.
Drawing on her experience as a makeup artist for models and actresses in print, commercials and film, Nancy brings an artistic understanding of highlights and shadows that enable her to effectively camouflage or emphasize facial features with fillers like Juvederm® and Restylane®. "My approach merges art and science, which allows me to fight aging with a comprehensive set of tools and a discerning eye," shares Nancy.
Industry professionals have also recognized Nancy as top-notch among her peers. She's been selected as an A.C.E. speaker and trainer for Allergan, Inc. – the makers of Botox®, Juvederm® and Latisse®. As one of only 32 A.C.E. trainers in the United States, she educates physicians and other medical professionals on technique and use of the company's products. Additionally, she's a Medicis, Corp. National Trainer for Restylane®. Nancy also lectures at the UCLA and CSULB Schools of Nursing.
Nancy Pellegrino, N.P.
180 Newport Center Drive, Suite 160
Newport Beach, CA 92660
(949) 706-9919
npaesthetics.com