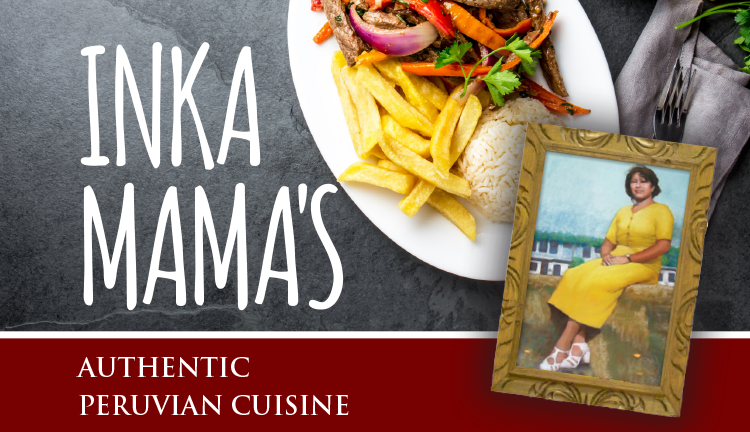 Inka Mama's
AUTHENTIC PERUVIAN CUISINE
BY DINA SCAGLIONE
If bold and exotic flavors are something you crave, look no further than Inka Mama's in San Clemente. Beyond your typical Orange County fare, the restaurant's abundant menu features influences from Asia and Spain with one-of-a-kind exotic dishes. Explore new and exciting finds without having to pack a bag and catch a flight.
Founded in 2001 by sisters Angela Kisijara and Martha White, Inka Mama's has become a local favorite. It's an ideal dining destination for those seeking a bit of a culinary adventure and a taste for authentic Peruvian dishes flavored with aromatic cilantro, citrus-y lime and spicy peppers. Inka Mama's diverse menu and warm atmosphere instantly transports you to South America without ever crossing the border.
Once inside, you'll be struck by the unobtrusive charm of the restaurant's Latin-Asian fusion ambiance. I looked forward to the arrival of a small jar, filled with my favorite bright green sauce called Aji — the traditional Peruvian staple made with pureed serrano peppers, romaine lettuce and cilantro. It's a delicious drizzle over your main entrée or as a to-die-for dip with soft bread.
For starters, try Inka Mama's ceviche, made with fresh sea bass, marinated in a spicy chile-lime juice with sliced onions and chopped cilantro. Another flavorful and unique appetizer is the Papa a la Huancaina, a large egg-size fried yucca filled with spicy yellow chile ricotta cheese sauce. Looking for something to beat the winter chill? Then, you must try the comforting Aquadito de Pollo chicken soup, made with cilantro, rice, vegetables and potatoes. It will warm you from your nose to your toes.
Inka Mama's is known for its Saltado, a Peruvian stir-fry made with sautéed vegetables, potatoes, onions, peppers, spices and served with rice. Whether you prefer vegetarian, chicken, seasoned top sirloin or rib-eye steak, the savory spices and harmonious flavors will make your taste buds sing.
Inka Mama's has 3 other locations in Foothill Ranch, Aliso Viejo and Santa Ana. Stop by for daily Happy Hour, Monday through Saturday from 4 to 7 p.m. and all day on Sundays. On Mondays, kids eat free with the purchase of a regular priced entrée and adults will enjoy half-price bottles of select wine. Wednesday Nights serve up $5 draft beers all night.
INKA MAMA'S
Talega Village Center • 821 Via Suerte #104, San Clemente
949.369.6262 • InkaMamas.com