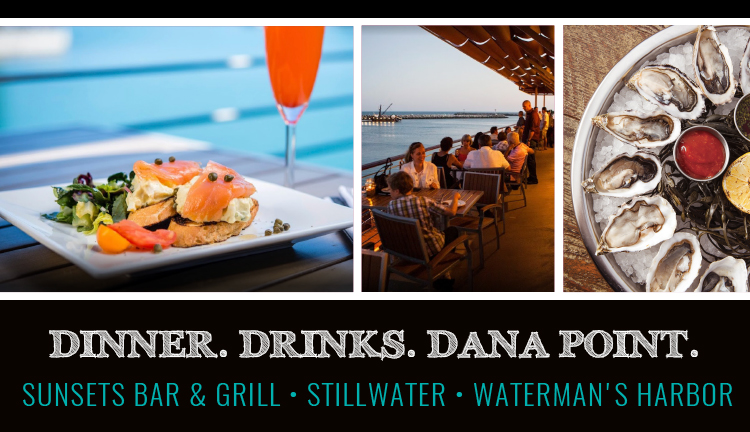 DINNER. DRINKS. DANA POINT.
SUNSETS BAR & GRILL • STILLWATER • WATERMAN'S HARBOR
BY VERONICA BADZEY
When Damian Collins opened Sunsets Bar and Grill ten years ago, he was looking to fill a void in the Dana Point restaurant scene. With breathtaking views of the Pacific, it's become a popular local hangout known for its upscale, yet unpretentious atmosphere, award-winning cocktails, and delicious Hawaiian cuisine. "I started Sunsets because I wanted a local spot where I could feel comfortable hanging out with friends and having a great drink," he relates. "My goal has always been to bring things to the community that I was really passionate about, and that we didn't have."
In 2012, Damian built on his success by opening StillWater in the Dana Point Lantern District, followed a few years later by Waterman's Harbor in the Dana Point Harbor. Though each restaurant features its own unique menu, ambiance, and entertainment, they all share a commitment to excellent food, exemplary customer service, and support for the local community. "We're always looking to improve," says Frank Perreira, Director of Operations for all three restaurants, "which is why we've made a real effort to elevate the food and enhance our customers' experience in every way we can."
SUNSETS BAR AND GRILL
Sunsets Bar and Grill got a boost last year with a new chef and revamped Hawaiian-themed menu that features popular items such as Bacon Bombs, Kahlua Pork Sliders, and Seared Ahi Tacos. In addition to a tantalizing array of cocktails like the Pineapple Margarita, Pono, and Mango Whiskey Sour, it also offers a full range of quality draft beer and wine. Sunsets showcases live music three nights a week, along with Happy Hour specials (all day on Wednesdays), and an incredible ocean view with its location on Pacific Coast Highway, directly across the street from Doheny State Beach.
STILLWATER
Approaching its 5-year anniversary, StillWater evokes a pre-prohibition vibe that honors its status as a local historic site, and the first building to be constructed in the City of Dana Point. Chef Steve Kling has created a tempting menu of classic American fare, utilizing sustainable, locally-sourced produce, meat, and fish, augmented by the restaurant's new Farm to Table garden. The bar offers an impressive selection of 54 foreign and domestic beers on tap, along with craft cocktails based on the libations from the 1920s, '30s and '40s.
StillWater has also added a new lunch menu, focusing on fast and affordable grab 'n go options for $10 and under, including a delicious Chicken Bowl, Drive Thru Burger, and Veggie Wrap. Guests will enjoy live entertainment Wednesday through Sunday (with no cover charge), and other nightly events like Taco Tuesday Karaoke, Wednesday Country Night, and Tribute Thursday, which features local Tribute Bands. With an open floor plan, expansive outdoor bar, and HDTVs to catch your favorite game, StillWater has become the go-to Dana Point spot for live entertainment, dancing, great grub and the perfect place to catch up with old friends and to meet new ones.
WATERMAN'S HARBOR
Named "Seafood Restaurant of the Year" in 2016 by the Orange County Register, and winner of the prestigious "Golden Foodie Award" for Seafood in 2016, Waterman's Harbor has already earned a solid reputation for delivering excellent cuisine created from locally-sourced, sustainable seafood. Having recently acquired a seafood processing license, it has the ability to serve fish purchased directly from local harbor fisherman, which translates into the freshest offerings possible – like the Baja Taco Style Shrimp and Macadamia Crusted Sea Bass. If lobster's your weakness, then you won't be able to resist the 3-course Maine Lobster meal on Thursdays for a mere $29.95.
Waterman's newly-designed upstairs lounge offers guests a relaxing and comfy spot from which to enjoy gorgeous views of Dana Point Harbor while sipping on their favorite drinks. The exclusive bar menu with generous half-off Happy Hour specials on delectable appetizers, beer, wine, and cocktails is a compelling excuse to gather with friends and co-workers at the end of the day. Be sure to drop in for the family-friendly, all-you-can-eat, $20 Sunday Brunch Buffet, featuring an omelet bar, $10 bottomless Mimosas, and plenty of treats for the kids, which can be enjoyed anywhere in the restaurant, including the open-air patio with expansive views of the water.
Be sure to make your reservation at Waterman's Harbor during Orange County Restaurant Week, taking place March 4 to 10. Specially created two-course lunch and three-course dinner menus, including complimentary cocktail, are offered at $15 and $30, respectively.
"Our hope is that as we focus on the food and keep improving," enthuses Damian, "we'll bring more good restaurants into town. We want to create a synergy that everyone in Dana Point can enjoy."