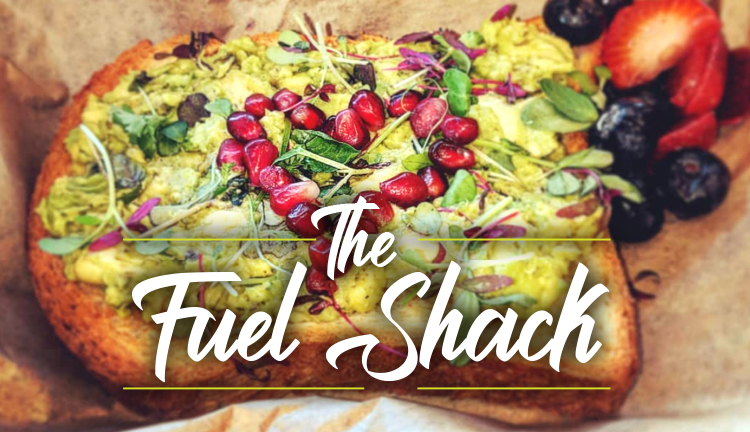 The Fuel Shack
by Dina Scaglione
"People will forget what you said; people will forget what you did, but they will always remember how you made them feel." This sums up the experience at The Fuel Shack in San Clemente. From the moment you walk through the door of this recently opened restaurant, you're immediately greeted with a warm smile and a genuine 'happy to see you' hello, as if you're part of the family.
The Fuel Shack is an eatery where you not only feel welcome, but where unique, fresh-to-order breakfast and lunch is prepared with a tremendous amount of care and creativity. Featured menu items are made using a slow-cooking methodology — an old-school technique that enhances the flavors in each dish, without a fryer, griddle or grill.
Yolanda, The Fuel Shack's manager, is a retired pediatrician and life-long chef who leverages a wonderful fusion of ingredients from her travels abroad and from time spent as a child cooking in the kitchen with her loving grandma. For those of us who grew up in a home that revolved around family gatherings and intentionally prepared meals, the 'food is love' feeling at The Fuel Shack certainly rings true.
Looking to start your day with a nutritious and delicious breakfast? Then, the Tropical Matcha, a coconut and matcha waffle, generously topped with a medley of tropical fruits, whipped cream and a drizzle of chocolate is just the fix. For those wanting something a bit more hearty, don't pass up the Savory Waffle Sliders: two cornmeal waffles nestled around Oaxacan-style black beans, cheese and the signature Kickin' Chicken Tinga or veggies — if you prefer a meatless dish. This two-fisted sandwich is finished with your choice of fire-roasted salsa, salsa verde, or chimichurri sauce for that extra kick. No modern breakfast place would be complete without the popular avocado toast on its menu. The Fuel Shacks' Awesome Avocado features seasoned avocado, micro greens, tomatoes, bacon and a cage-free egg, all loaded generously on a thick slice of Texas toast.
The Fuel Shack aims to wake you up with the aroma of freshly brewed gourmet coffees, your favorite concoction from its espresso bar, house-made cold brew and delicious teas. A beautiful selection of assorted baked items, from moist, oversized muffins to mouth-watering, homemade banana bread topped with a cream cheese frosting, are a definite can't-miss.
Stop by and fuel up! Open 7 a.m. to 3 p.m. weekdays and 7 a.m. to 2 p.m. weekends, The Fuel Shack is conveniently located on the corner of Camino de Estrella and Camino Mira Costa, across from the Sprouts shopping center.
The Fuel Shack
360 Camino De Estrella
San Clemente
(949) 388-4015
TheFuelShack.com