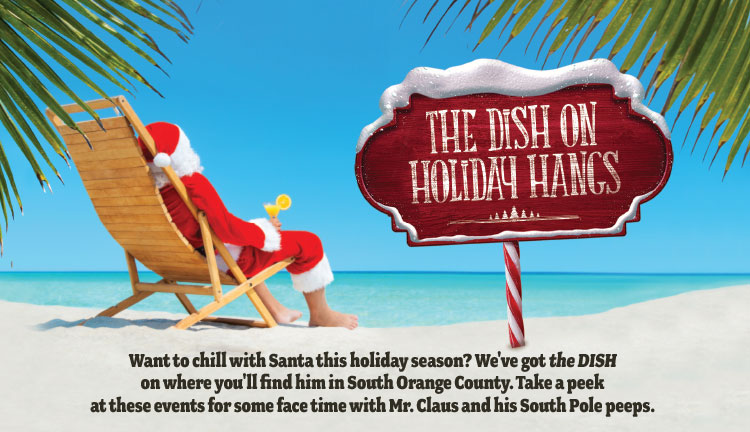 The Dish On Holiday Hangs
Want to chill with Santa this holiday season? We've got the DISH  on where you'll find him in South Orange County. Take a peek at these events for some face time with Mr. Claus and his South Pole peeps.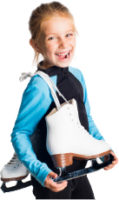 TREE LIGHTING & FESTIVAL
The City's annual Winter Festival and Tree Lighting returns to La Plaza Park on Saturday, December 3 from noon to 7. New to the event this year is an ice skating rink! The festival includes a craft fair, face painting, a petting zoo, pony rides and cookie decorating. The Christmas Story will be screened with complimentary popcorn immediately following the hot-chocolate-and-cookie-accompanied Tree Lighting at 5:15 p.m. Please remember to bring an unwrapped, new toy for the OC Spark of Love Toy Drive. The City and Capo Care are also holding a Tree Lighting on Monday, December 5 at Pines Park from 4 to 6 p.m. It's a family-friendly event with crafts, carolers, cookies, hot chocolate and more!
MINGLE AND JINGLE
Holiday in the Harbor spreads the spirit of the season on December 2, 4:30 to 7:30 p.m., at Mariner's Village, Mariner's Alley and Dana Wharf.  The celebration features family fun of all kinds, including performances by various characters, holiday crafts, people painting, carolers and visits with Saint Nick. Santa is anxious to hear holiday wishes and is available for photos (bring your camera). The parking and events are free. For more info, call 949.496.6177 or visit DanaPointHarbor.com.
DON'T ROCK THE BOAT
Join boaters from all around Orange County as they light up the holiday season at the Dana Point Boat Parade on Friday and Saturday, December 9, 10, 16 and 17 at 7:30 p.m. This year's "Under the Sea" theme will certainly have participants diving deep for some "mermaizing" ideas! Make reservations early at your favorite waterside eatery for a warm and comfy spot. Go to DanaPointHarbor.com to learn more.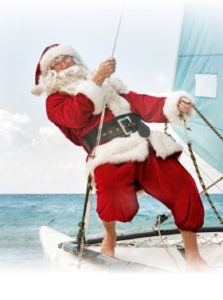 SEA TO BELIEVE
Come aboard the "Sum Fun" for a twenty-minute Harbor Boat Ride with Santa and his helpers. On December 3 and 4 from 10 a.m. to 2 p.m., Saint Nick will be on board spreading holiday cheer and taking note of your little one's holiday wishes. For a $3 donation, the El Camino Real Junior Woman's Club will happily capture the moment with a keepsake photo. Santa and crew will launch from the Dana Wharf Sportfishing docks. For more information, visit DanaPointHarbor.com.
READ MY LIPS
Holiday Storytelling returns to The Ritz-Carlton on Friday and Saturday, December 2, 3, 9, 10, 16, and 17 from 5 to 6 p.m. in the Eco-Adventure Center. Classic tales will be read aloud to the kiddos followed by a visit with Santa. Donations of a new children's book are greatly appreciated.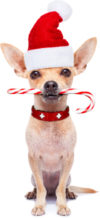 TOP DOG
On Saturday, December 3 from 10 a.m. to 3 p.m., The Pet Project Foundation is excited to host the 5th Annual Santa Paws event. Bring your four-legged friend to the El Torito Courtyard and have a picture taken with Santa for a nominal fee. All proceeds benefit the Pet Project Foundation and the San Clemente-Dana Point Animal Shelter.
BARK YOUR CALENDAR
Join other canines and their companions to sniff and schmooze at The Ritz-Carlton, Laguna Niguel's Yappy Howl-iday Celebration on Sunday, December 4 from 11 a.m. to 2 p.m. The "Big Dog" will be on hand for photos with Fido. In keeping with the resort's season of giving, guests are asked to bring unopened canned or dry dog food, treats or dog toys to be donated to local animals in need.
RIDE THE WAVE
The Ritz-Carlton is partnering with Surfers Healing to help children with autism through its annual Holiday Surfboard Auction. This year's auction showcases more than two-dozen boards donated by renowned artists, actors, musicians and surf industry greats. Visit BiddingForGood.com/SurfersHealing through December 31 to place your bid for a great cause.

SANTA DELIVERS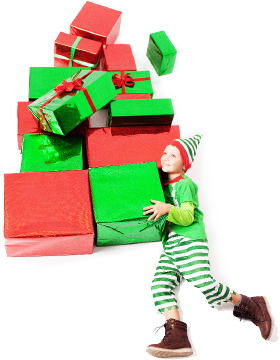 On December 3, San Clemente is the place to be for an action-packed holiday spectacular. The festivities begin with Casa Romantica's Christmas at the Casa from 5 to 7:30 p.m. featuring letter writing and photos with Mr. Claus, crafts, hot cocoa and cookies, Dickens Carolers and other entertainment. The action continues with Santa's Village by the Sea at the Community Center from 5:30 to 8:00 p.m. for the annual snow hill, holiday games, cookie decorating, visits with Santa and the tree lighting at 8 p.m. From 6 to 10 p.m., Avenida Del Mar hosts Puttin' on the Glitz, where mom and dad can get a jump on their holiday shopping and the kiddos can take train rides and watch a holiday movie. For more information, visit San-Clemente.org or call 949.429.8797.
ALL IN A DAYíS WORK
You better watch out, you better not pout…Playschool is decking the halls for a morning of holiday cheer and excitement at the Lil' Elves Workshop. On December 9, from 10:30 a.m. to 12:30 p.m., Santa's elves are in need of extra special help from your tiny tots to put crafts and games together. Children will sing holiday songs, enjoy special guest appearances from Santa's helpers, make gifts for family and friends, decorate holiday cookies, and more. The registration fee is $20 per child (ages 3-5) at San-Clemente.org.
PICTURE THIS
Come to The Outlets at San Clemente's Center Court on December 2, 3, 4, 9, 10, 11, and 16 – 23 from 1 to 7 p.m. and on Christmas Eve from 1 to 6 p.m. for a Photo Op with Santa. Bring the kids and your camera for a complimentary photo and an opportunity to check off your holiday gift list at more than 50 stores.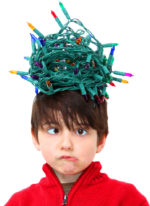 ON THE BRIGHT SIDE
San Clemente residents and business owners, it's time to untangle those lights and get ready for your chance to win prizes in the City's Winter Wonderland Light Decorating Contest. Go to SCChamber.com for a registration form and return it by December 12 to enter. Judging takes place on December 13 from 5 to 8 p.m.

MAKING SPIRITS BRIGHT
Come to Historic Town Center Park on December 3 at 4:15 p.m. to kick off the festivities with music and other live entertainment before the City's Tree Lighting Celebration at 5:15 p.m. From there, take the family and head over to Los Rios Park, Zoomars, and the downtown area for free photos with Saint Nick, a puppet show, a Christmas train ride, crafts and extended shopping hours. Zoomars is opening the gates to its petting zoo free of charge and is offering train and hay rides for a nominal fee. Mrs. Claus will entertain children with a holiday story at the O'Neill Museum.
MERRY-ACHIS & MORE
Mission San Juan Capistrano will host Christmas at the Mission on Saturday, December 3 from 5:30 to 8 p.m. Bring the family for a fun evening featuring real snow sledding and a play area (bring mittens!). Kids will have a jolly time visiting with Father Christmas and decorating cookies. Carolers, choirs and chamber music will entertain guests as they enjoy tamales, chili, sweets, cider and cocoa. General admission is $6, $4 for children ages 4-11 and free for members. Visit MissionSJC.com for more event information.

MERRY & BRIGHT
Laguna Niguel's City Hall will brighten up the sky at its annual Christmas Tree Lighting and Holiday Celebration on Saturday, December 3 from 5 to 7 p.m. Join in the countdown to powering up the tree while you keep warm and happy with hot chocolate and cookies. Bring your camera and snap a quick pic with Saint Nick.
LIGHT UP THE TOWN
Laguna Niguel residents can get into the spirit by entering the Holiday Lights Decorating Contest before December 5 at 9 a.m. Winners in each category receive a Visa gift card and a yard sign with bragging rights! The entry form, rules and information are located in the City's Winter Recreation Brochure or you may go to CityofLagunaNiguel.org for more.
WALK THIS WAY
"Home for the Holidays" is the theme for the City of Laguna Niguel's annual Holiday Parade taking place on Saturday, December 10 at 10 a.m. This year's Grand Marshall, Rita Rudner, along with Teen Grand Marshall Brec Bassinger, from Nickelodeon's Bella and the Bulldogs, will lead the way. The parade includes beautiful equestrian units, patriotic and inspirational military tributes, world-class athletes, spirit-filled youth groups, classic auto clubs, talented marching bands, and some of the biggest attractions in the nation! To learn more, visit LagunaNiguelParade.com.
A LATKE FUN
A blizzard of holiday fun awaits the whole family as Chabad Laguna Niguel and the City host its Chanukah Wonderland and Menorah Lighting on Wednesday, December 29 at 5:30 p.m. The merriment happens at City Hall, with live entertainment, arts and crafts, and traditional Chanukah treats. Go to ChabadLagunaNiguel.com for more information.