St. Catherine of Siena Parish School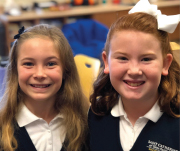 Why Parents Love Saint Catherine's
"The best thing we have done for our kids is to enroll them at Saint Catherine of Siena Parish School. We love this school! They LOVE this school. Not only is it academically challenging, but it has helped us raise kind, responsible and loving kids who love God and their community! Our daughter was very well prepared for high school as well." — Patty M.
60 Years of Excellence
Serving students from Transitional Kindergarten through Eighth Grade, Saint Catherine of Siena Parish School offers a curriculum designed to educate the whole child — mind, body and spirit. Originally opened in 1957, the campus was completely reconstructed in 2008. The facility offers spacious classrooms, separate elementary and middle school buildings, a science lab, computer facilities, art lab, library, music room and gymnasium with a stage for performing arts. The school has continually earned the highest level WCEA/WASC accreditation.
Discover the Arts
Saint Catherine's school employs experts in visual arts, music and theater, holds its own annual Masters Pageant, and partners with the Pacific Symphony Class Act Music Appreciation Program.
Discover Science
STEM instruction begins at an early age at Saint Catherine's School and continues through middle school. The teachers are trained by the Discovery Science Academy which helps educators and students increase their understanding of the new Next Generation Science Standards (NGSS).
Discover Math
The high school preparatory curriculum prepares students for success and graduates have gone on  to attend schools such as The University of Notre Dame, USC, UCLA, Harvard, Princeton and Cornell. The middle school competes in the Diocesan Academic Decathlon.
Discover Faith
As a Catholic institution, Saint Catherine of Siena nourishes each student's spiritual journey while embracing a diversity of faiths.
Discover Yourself
Saint Catherine is also home to championship sports teams such as co-ed Inline Hockey, Flag Football and Girls Volleyball. The school also provides a wide range of after-school enrichment activities such as cooking, robotics, chess, instrumental music and community service.
The school is hosting an Open House on February 6, 2019. You are invited to attend Mass at 9:30 a.m. followed by a tour of the beautiful campus.
For information or to schedule a campus tour, please call the school office at (949) 494-7339.
St. Catherine of Siena Parish School
30516 S Coast Hwy.
Laguna Beach, CA 92651
949.494.7339
www.StCathSchool.org