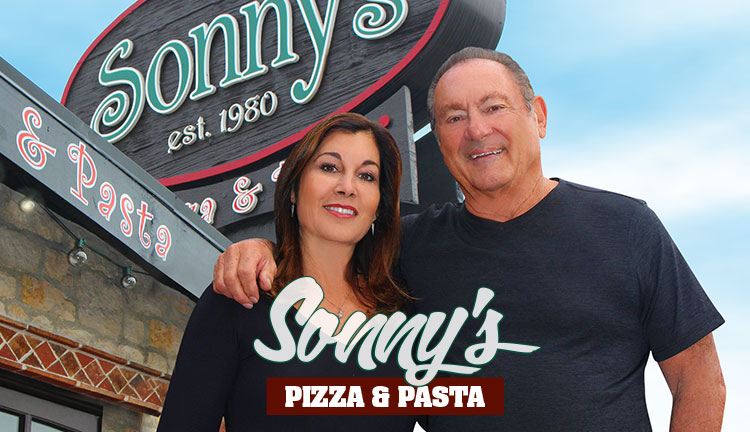 Sonny's Pizza & Pasta
by Dina Scaglione
At a time when restaurants seemingly pop up one day and shut down the next, Sonny's Pizza and Pasta, or more affectionately known as simply Sonny's, has been serving up thin-crust pizzas and flavorful pasta dishes to devoted locals and curious tourists for more than 36 years. You can hardly mention the restaurant's name without heads nodding in approval.
Since 1980, owner Sonny Genovese has prepared his family's recipes from scratch each day, perfectly balanced with aromatic seasonings and flavorful spices. The restaurant's unpretentious vibe and relaxed atmosphere welcomes families, friends and couples alike. Just bring a hearty appetite and let them handle the rest.
Though San Clemente is largely known for its cool, coastal climate, Spanish feel and chill vibe, the city and its surrounding areas have no shortage of Italian food aficionados who've made Sonny's their go-to spot for a delicious bowl of savory Baked Rigatoni or the new Badda Bing pizza with spicy Calabrese salami, fresh mozzarella and fresh basil. Another favorite is the Rigatoni Pomodoro with ricotta cheese and spinach. Steeped in a classic pink sauce – a combination of Sonny's signature red and Alfredo sauces, and topped with sliced sausage, this blissful marriage of melt-in-your mouth flavors and textures is a testament to the restaurant's mass appeal. With a dizzying array of generously portioned entrées, from fresh seafood to meatless dishes, Sonny's offers something to suit every palette.
As far as appetizers go, nothing beats the Spicy Calamari. Unlike most other renditions, Sonny's tender calamari steak (not the typical chewy, rubber band-like rings) is cut into strips and sautéed in a spicy, garlic tomato sauce. Magnifico! The Tomato Basil Bruschetta also tops the list, served with crunchy garlic toast and sweet tomatoes, seasoned with basil, capers and chunks of Pecorino Romano.
With gondola muralled walls and the scent of roasted garlic hanging in the air, Sonny's inviting atmosphere draws you inside and keeps you coming back for more. The spacious outside patio adorned with red and white-checkered tablecloths accommodates those who prefer to dine al fresco. Although Sonny's can be quite popular on weekends, don't let the appendage of outside gatherers dissuade you. Sonny's is one of those can't-miss local gems, and like so many good things in life, is well worth the wait!
Sonny's Pizza & Pasta
429 N. El Camino Real, San Clemente
949.498.2540 • Sonnys.com