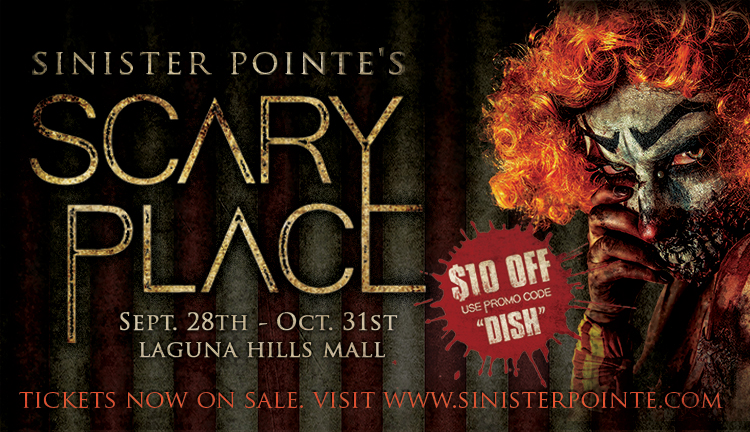 Sinister Pointe's Scary Place
California's largest multi-level Halloween event is unleashing a terrorizing great time on Friday, September 28 at Laguna Hills Mall. Sinister Pointe's Scary Place marks the huge, blood-soaked return of one of the most inventive haunted attraction companies in Southern California. This new, interactive fear factory will offer haunt lovers three stories of unrelenting horror. The 150,000 square foot venue is filled with mazes, an interactive Phobias exhibit, creepy magicians, strange stage performances, live music and a brand-new haunted ride through darkness.
Where do you go when you close your eyes? What's your idea of a scary place? The creators at Sinister Pointe have made it their mission to produce an event that allows the brave and foolhardy alike to cross the veil into the foggy realm of fear. Geared toward ages 14 and above, haunt goers will be immersed in a murky realm of terror that delivers a full night of Halloween fun.
Sinister Pointe has transformed a huge, abandoned retail location at Laguna Hills Mall into South Orange County's premier house of horrors. "For 22 years, I have been producing Haunted Houses that many guests have traveled great distances to experience," shared Jeff Schiefelbein, the creative ghoul behind Sinister Pointe. "With our success, it was time to expand and provide our fans with an experience that would last an entire evening."
The Boogeyman Express
The train may not have skipped the tracks, but the mayhem and terror persist on the Boogeyman Express. Rumor has it that the boogeyman and his evil minions roam the grounds hunting innocent bystanders. If you are brave enough, you can explore it for yourself. As always, please keep your hands and arms inside the carts at all times, for limbs are known to have gone missing on this hair-raising terror train through wilderness.
Evil on 2
As guests enter the second floor of Scary Place, they will discover a quaint little hotel that has been overrun by evil. Keeping their wits about them, this brave souls will need to navigate through the hotel to investigate the terror within, knowing that a horrific fate may soon await them.
Facing Your Phobias
A fully interactive maze will test your abilities to cote with your worst nightmares in Scary Place's Phobias experience. Step right up and see if you have what it takes when you're facing your greater fears. For your sake, we hope being alone isn't one of them.
Between the screams, horror fiends can feast on a variety of snack foods while checking out the revolting entertainment including main stage performances, wandering magicians, games, roaming packs of monsters, and the Sinister Pointe Dark Market where new merchandise from vicious vendors will be available for purchase.
TICKETS
Two types of tickets are available nightly, allowing guests to choose their fate. The Local DISH Magazine readers can save $10 per ticket with promo code "DISH" at checkout. The All-Night Pass offers guests unlimited access to all entertainment, attractions, and vendors for a single price starting at $52 on select nights, and $62 on Friday and Saturday nights. The All-Night VIP Access option provides front-of-the-line access to all mazes and attractions, along with priority seating for shows and performances. VIP Access prices start at just $70 on select nights, and $80 on Friday and Saturday nights. Save time and purchase your tickets in advance at www.sinisterpointe.com
Scary Place debuts on Friday evening, September 28. The event runs Thursdays through Sundays throughout October, with a Halloween Night finale. Hours are 7 p.m. to midnight on Fridays and Saturdays, and 7 p.m. to 11 p.m. on Thursdays and Sundays.
Sinister Pointe's Scary Place
Laguna Hills Mall
Tickets Available at www.sinisterpointe.com