Sanctuary Home Furnishings
Dennis Penman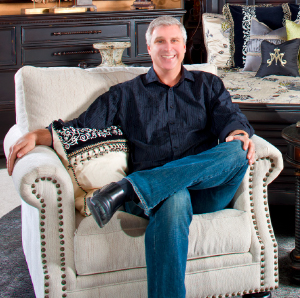 As the owner of Sanctuary Home Furnishings in San Juan Capistrano, Dennis Penman is always driven to offer exceptional décor for both indoor and outdoor living spaces. Having served the community since 1998, the Sanctuary showroom provides an immense mix of transitional furnishings, wall décor, art for inside the home and a wonderful selection of indoor seating and dining groups for the patio. Customers may find anything and everything they could possibly need to turn their house into a dream home. From custom plush sofas, sectionals and chairs to amazing tables and unique accessories. Sanctuary Home Furnishings offers an array of options for homeowners and interior designers.
"We pride ourselves on our high-quality furnishings selection, low prices, unmatched customer service and experienced staff," says Penman. "Our sales team and designers are on the showroom floor to assist clients and also offer their design expertise in your home. Our in-home service allows the designer to better guide the client in choosing the proper scale furniture, colors and an entire look for the home."
Sanctuary's clientele come from all over Southern California, drawn to the 11,000 square foot shopper's paradise. Customers can find hidden treasures from the great variety of customizable upholstery, accent pieces, bedroom sets, cocktail tables, dining sets, outdoor seating, outdoor dining, umbrellas and fire-tables on the showroom floor. Most items are available for immediate purchase and delivery.
Sanctuary Home Furnishings typically receives new furniture weekly and carries multiple manufacturers. "We attend the furniture expos and pick the best looks for the best prices and pass the savings on to our clients," says Penman. "We can sell directly off our showroom floor and we always have product on order. Custom orders are completed very quickly and normally delivered in 4 to 8 weeks."
Dennis feels fortunate to be surrounded, daily, by beautiful décor and to work with his talented staff, while serving a variety of personalities from his diverse clientele. He adds, "The best part of the business is when I receive phone calls from customers who thank us for not only providing them with beautiful furnishings, but for helping make their house a home."
The Sanctuary family takes great pride in providing service to the surrounding communities and looks forward to having you visit the local showroom.
Sanctuary Home Furnishings
31896 Plaza Drive, Suite E-7, San Juan Capistrano
949.248.9772
sanctuaryhf.com