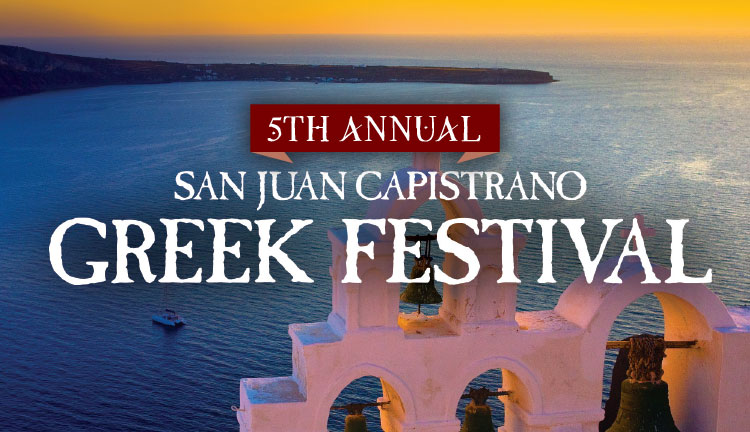 San Juan Capistrano Greek Festival
"OPA!" The 5th Annual Greek Festival, sponsored by Saint Basil Greek Orthodox Church, returns to San Juan Capistrano on Saturday and Sunday, September 16th and 17th. Guests will enjoy authentic Greek cuisine, live Greek music, traditional Greek dancing, specialty shopping at the Greek Market and Bazaar, and a fully-loaded Kids Zone.
Experience a delicious and authentic Greek menu with delectable favorites including Gyros, Mediterranean-seasoned Lamb Chops, Souvlaki, Spanakopita, Tiropita, Pastitsio and Greek Salad. You'll enjoy handmade Greek pastries from traditional family recipes, like mouth-watering Baklava, powdered sugar Kourambiethes and honey-dipped Loukoumathes (Greek donut holes) along with traditional Greek coffee and refreshing iced coffee Frappés.
You won't want to miss making your way to the "Taverna" with a sports bar twist – equipped with big screen satellite TVs where guests can enjoy domestic favorites, as well as Greek beer, wine and Ouzo. Stroll through the Festival's Greek Marketplace where you'll find an assortment of unique ingredients (including Greek olive oil, honey, teas and spices) along with an array of souvenirs, gifts, jewelry and books to tempt shoppers of all ages.
The Greek word "Kefi" means the spirit of joy, fun and a passion for life. You're sure to feel "Kefi" as you are transported to the enchanting country of Greece by the sights, sounds and culinary delights of this fun-packed Festival weekend. Within seconds, the live music and Greek dancing will have you on your feet, dancing and expressing your inner-Kefi with shouts of "Opa!" and an unusual desire to break plates! (Don't worry… easy-to-follow lessons are provided.) The Saint Basil award-winning dance troupes will also perform traditional dances in authentic costumes representing different regions of Greece.
Festival hours are 11 a.m. to 11 p.m. on Saturday, and 11 a.m. to 10 p.m. on Sunday. Admission and parking are free all weekend long. The San Juan Capistrano Greek Festival will be held at the Saint Basil Greek Orthodox Church grounds located in the Capistrano Business Center at 27129 Calle Arroyo in San Juan Capistrano, near Interstate 5 Freeway and Ortega Highway / CA-74 exit, and next to 24-Hour Fitness.
For more information on the San Juan Capistrano Greek Festival, please visit SJCGreekfest.org or the event's Facebook, Instagram and Twitter pages.