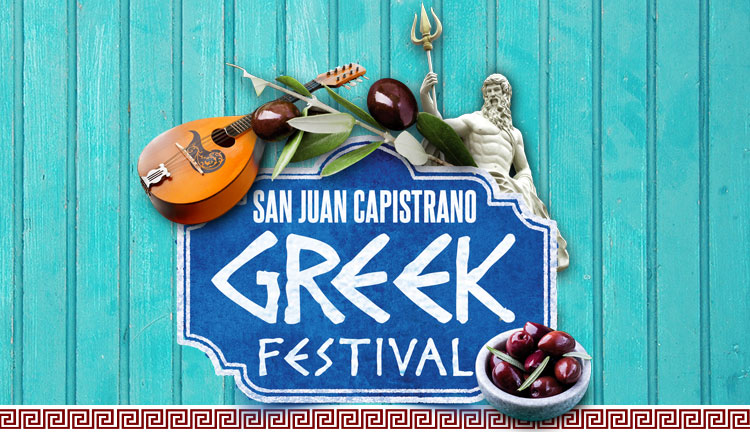 San Juan Capistrano Greek Festival
"OPA!" The three-day festival, sponsored by Saint Basil Greek Orthodox Church, returns to San Juan Capistrano on Saturday, September 16th and runs through Sunday, September 17th. Guests will enjoy authentic Greek cuisine, live Greek music, traditional Greek dancing, specialty shopping at the bazaar and kid-friendly activities.
The authentic Greek menu will feature various Greek delicacies including gyros, souvlaki, lamb chops, spanakopita and Greek salad, as well as delicious pastries like mouth-watering baklava and kourambiethes (powdered sugar butter cookies) to accompany a delicious Greek coffee or iced coffee frappe. Make your way to the Taverna with a sports bar twist — equipped with big screen TVs where guests can enjoy domestic favorites as well as Greek beer, wine and ouzo.
The Greek word "Kefi" means the spirit of joy, fun and a passion for life. You will have the opportunity to experience this part of Greek culture at the festival as you dance to live Greek music. Don't worry; lessons are provided and within seconds you will be expressing your Kefi with shouts of "Opa!" and an unusual desire to break plates. The Saint Basil dance troupe will also perform traditional dances in authentic costumes representing different regions of Greece. 
Festival hours are 11 a.m. to 11 p.m. on Saturday, and 11 a.m. to 10 p.m. on Sunday. Admission and parking are free. Saint Basil's Church is located at 27129 Calle Arroyo, near the 74 Ortega Highway exit in San Juan Capistrano next to 24 Hour Fitness.
For more information on the San Juan Capistrano Greek Festival, please visit SJCGreekfest.org or call 949.542.3445.