Reeltime Sight & Sound
Skip Myers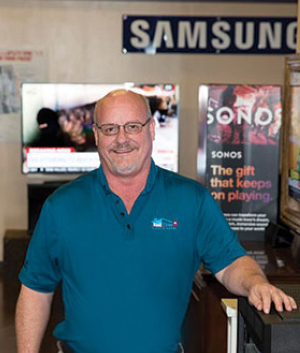 If your family is full of hard-to-please people… you're in luck! ReelTime Sight & Sound has family-centric fun and entertainment 100% covered. Providing the highest quality equipment, expert design and custom installation services, San Juan Capistrano's destination for all things home entertainment is more than just an electronics store.
ReelTime's design consultants customize solutions for each and every client—from conference rooms and whole-home automation to networking, security and speaker systems. The 17,000 square foot showroom of live equipment is packed with the very latest in audio, video, security and integration technologies that customers can touch, experience and compare.
ReelTime specializes in both innovation and exceptional customer service. Each installation, no matter how straightforward or elaborate, is assigned a project manager to oversee all elements of the transaction. A project's details might even include fabrication of custom-built cabinetry, multiple site visits and consultation with a client's architect, interior designer or general contractor. The engineering team ensures the seamless integration of components into a fully functioning system—resulting in user-friendly technology that's easy and fun to operate.
One of the most exciting aspects of living in this time of lightning-fast technological advancements is the way our lives can be simplified with a tiny device. With a world of music and video available at the click of a button, we can learn, grow, be entertained and experience other cultures from the comfort of our sofas. A perfect example of this life hack is the Sonos line of wireless HiFi products.
ReelTime Sight & Sound combines the very best brands with deep industry expertise and a broad range of capabilities. Regardless of size, scope or architectural design, you can feel confident in relying on its experts. Ask one of ReelTime's design consultants about the expansive variety of options for your home entertainment needs. Stop by the store for a look at the latest technologies and to ring in the season with new sights and sounds.
Reeltime Sight & Sound
26381 Via De Anza, San Juan Capistrano
949.240.0555
Reeltime Sight & Soundsocal.com