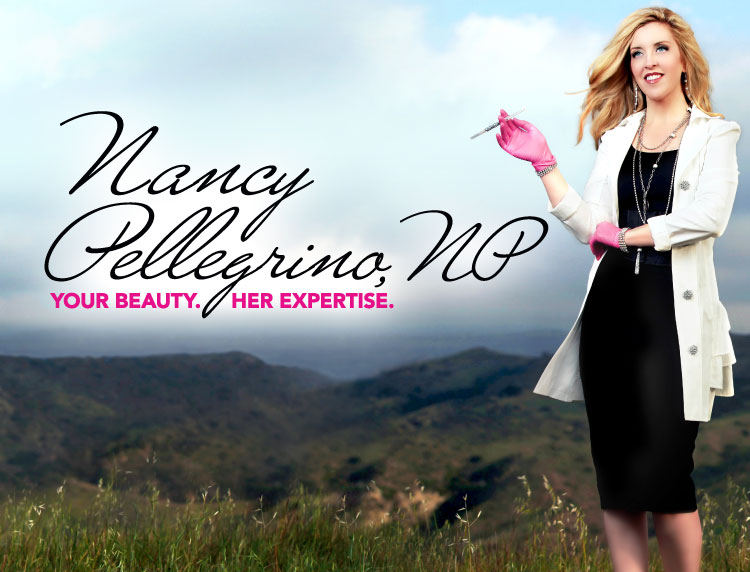 Nanch Pellegrino, NP Aesthetics
By Shelley Hudson

Nancy Pellegrino, NP is much more than a pretty face. Although it's difficult not to notice her flawless skin and sparkling blue eyes, she's also the brains and expertise behind thriving NP Aesthetics, Inc. in Newport Beach. Just ask any of Nancy's loyal skin care devotees, and you'll quickly learn that she's not only an age fighting authority, but a trusted and attentive professional who delivers results-based aesthetic medicine to men and women ages 18 to 88.
What sets Nancy Pellegrino apart from her colleagues is what can't be taught through formal education. She has 15 years of experience providing injections, laser and skin care treatments, in addition to graduating from UCLA at the top of her class. Her innate ability to assess each patient's face and to visualize the possibilities allows Nancy to personalize each and every injection, achieving natural and consistent results. "I am in the business of providing happy medicine, but am serious about fighting the aging process with safe and proven solutions. I strive to make a meaningful difference in the lives of my patients, helping them match the outside with how they feel on the inside," shares Nancy.
Nancy's clientele ranges from stay-at-home moms to the entertainment industry's familiar faces. "Several of my patient's livelihood's are dependent on their appearance, so it's imperative that I offer innovative services that deliver the perfect balance of classic elegance and glamour. I want my clients to look like they've just returned from a restful vacation, not that they've been noticeably injected with Botox or fillers," says Nancy. Peggy Tanous from the OC Housewives agrees, "Nancy Pellegrino is the best injector I have ever been to. Being a TV host and a model, my appearance is everything. She has a way of distributing Botox and fillers so it reaches all areas, not just one. You look rejuvenated rather than frozen
and expressionless!"
As a member of Allergan's advisory board and a highly regarded A.C.E speaker and trainer for the company, Nancy stays one step ahead by having advanced knowledge of products before they're widely available. She trains doctors and other medical professionals, educating them on the technique and use of Botox and Juvederm. Patient and former OC Housewife Lynne Curtin says, "I am so lucky I found Nancy Pellegrino. She is definitely the Michelangelo of Botox, fillers and other non-invasive treatments for women who are not ready to make that step towards a surgical procedure. Along with her amazing staff, Nancy is changing lives and breathing new life and hope into women of any age. I highly recommend a visit to her beautiful state-of-the-art facility which offers the latest and greatest procedures
and products."
Nancy Pellegrino's success has resulted from her passion for the field of aesthetics and because she genuinely cares about her patients. "I'm very grateful for the loyal, happy clients who have trusted me with their faces for years. I've been their friend, confidant and have shared in their major life moments. It's rewarding when they leave NP Aesthetics looking and feeling amazing… and my reputation depends on it."

Nancy Pellegrino holds R.N. (Registered Nurse) and N.P. (Nurse Practitioner) certifications. She received her Bachelor of Science in Nursing (BSN) from CSULB and a Masters in Nursing (MN) from UCLA. Nancy is a member of the California Association of Nurse Practitioners and The Aesthetic Practice Association. She is also a trainer, speaker and on several advisory boards for Allergan, Inc.
Nancy Pellegrino, N.P.
180 Newport Center Drive, Suite 160
Newport Beach, CA 92660
(949) 706-9919
npaesthetics.com