Pediatric Dentistry of San Clemente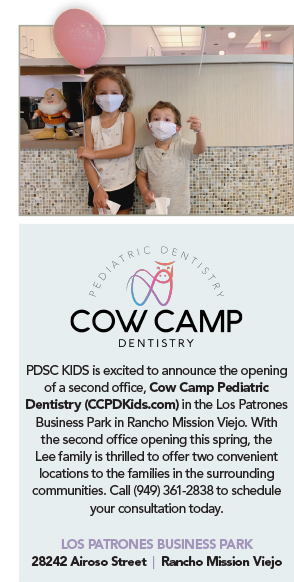 Pediatric Dentistry of San Clemente (PDSCKids.com) warmly welcomes you into its immaculate, yet delightfully cozy office. With an emphasis on delivering comfortable care in a fun and entertaining space, every detail has been considered. From game stations in the reception area and ceiling-mounted TVs above each dental chair to sunglasses that soften the glaringly bright dental lights, the staff works to make your family's visit as relaxing as possible. While teens particularly enjoy melting the day's stress away in soothing massage chairs, younger ones look forward to receiving a helium balloon and selecting a treat from a wonderful treasure trove of toys at the end of a visit.
Under the meticulous direction of its founder, Dr. Jacob Lee, the highly experienced team at PDSC builds and maintains healthy smiles with the assistance of state-of-the-art technologies. The office utilizes revolutionary laser dentistry that reduces discomfort and minimizes scarring, advanced digital X-ray equipment that yields vital diagnostic images with the least radiation possible, and a purified water supply at each dental chair that employs a distilled, closed water system to maintain patient safety. Above all, the team undertakes numerous hours of continuing education to stay at the forefront of the latest scientific techniques to align with best dental practices.
Since PDSC's doors opened in 2001, the practice has focused on preventive care to build a lifetime of healthy oral habits for infants, children of all ages, children with special needs, and young adults. After establishing a distinguished career as a dental materials researcher and a teacher/mentor to numerous aspiring pediatric dental specialists, Dr. Lee wanted to focus on raising his two young children. With the help of his wife, Sophie, a computer programmer, they embarked on creating a children's dental office that offers expert dental care in a warm, positive, and comfortable environment. In addition, Dr. and Mrs. Lee contribute to local schools and community events. Their ultimate goal was to create a place where children actually look forward to going to the dentist!
Dr. and Mrs. Lee have two children, Aaron and Jina. Dr. Aaron followed in his dad's footsteps to also become a pediatric dentist. He received his DDS from UOP School of Dentistry and then undertook an additional two years of specialist training at USC. Ms. Jina also chose to pursue a career in the dental field. After finishing her university education at Pepperdine, she completed extensive training to become a licensed, registered dental hygienist.
For over 20 years, the team at PDSC KIDS has been proud to meet the dental needs of infants, children, and teenagers. As their patients grew into adulthood, Dr. Crystal Lee, a general dentist, joined the team in 2020 to care for young adults with the same level of attention and excellence they had become accustomed to receiving. Adding a general dentist also allowed PDSC KIDS to build the healthy smiles of their young patients' parents, who had long wanted to receive the same gentle care as their children. Dr. Crystal is not only a member of the PDSC family, she's also married to Dr. Aaron, whom she met in dental school. After completing a highly competitive, combined six-year undergraduate/dental school program, Dr. Crystal continued residency training at the prestigious UCLA Hospital Dentistry Program. Now, the Lee family of dental professionals welcomes your whole family to their office as the team members meet all of your family's dental needs.
Pediatric Dentistry of San Clemente
903 Calle Amanecer, Ste. 110, San Clemente
949.361.2838
PDSCKids.com