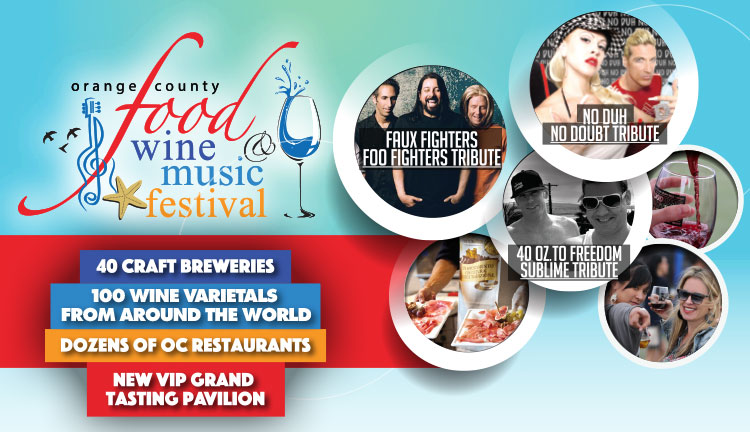 Orange County Food, Wine & Music Festival
by Veronica Badzey
For the perfect summer kick-off event, come play at the 5th Annual Orange County Food, Wine, and Music Festival, taking place June 24th at Dana Point's beautiful Sea Terrace Park. This year's highlights include a 100 varietals of California and international wines, 40 craft breweries, culinary creations from dozens of food vendors, and one-of-a-kind treasures from nearly 100 artisans. All of this while enjoying sweeping ocean views, grassy hillsides, and fresh coastal breezes.
The Music
In celebration of its 5th Anniversary, the popular festival has secured a stellar line-up of musicians to entertain guests throughout the event. On the Craft Brew Main Stage, 40 oz. to Freedom, the Sublime Tribute band whose performance this year coincides with the 25th Anniversary of Sublime's hit album of the same name, will energize participants with it's thumping So Cal ska-reggae sounds. Also featured is the No Doubt and Gwen Stefani Tribute band No Duh, and the Faux Fighters, a rockin' homage to the Foo Fighters, Dave Grohl and Nirvana. Orange County's own DJ Peter G will be spinning all day in the Wine Area, and the Killer Dueling Pianos will keep the party going in the VIP Pavilion.
The Wine
International wines from countries such as France, Spain, Argentina, New Zealand, Australia, Germany, and Chile will be represented at this year's event. Guests will also have the opportunity to sample varietals from the popular California regions of Napa, Paso Robles, Santa Barbara, Sonoma, and Mendocino, just to name a few.
The Craft Brew
Craft brew connoisseurs can quench their thirst with tastes from up to 40 of the Festival's craft breweries. Vista's Belching Beaver, L.A.'s Angel City Brewery, Petaluma's Lagunitas, San Diego's Acoustic Ales, Newport Beach's Newport Brewing Company and Laguna Beach's own Laguna Beach Beer Company will be on hand to showcase their offerings.
The Food
Foodies need not fret! Dozens of gourmet vendors will serve up an eclectic mix of specialty food items; many of which have been created exclusively for the event. Guest will have the opportunity to nosh on Cajun catfish, meatloaf cupcakes, pineapple pork chops, paella, barbecue of all kinds, chicken cordon bleu, smoked tuna, African sausage, sushi, poke, and lots more.
The Shopping
Once you've quenched your thirst and indulged in delicious fare, you'll have a chance to check out treasures from nearly 100 artisans, many from the surrounding areas of San Diego, L.A., Palm Springs and beyond. One-of-a-kind jewelry, art, and unique products not found anywhere else, can be snatched up for yourself or gifted to that special someone.
Getting In
A modest $10 gets you through the door, including access to all of the music, events, select beer and wine stands, and food. Once inside, beer or wine is a modest $8 per glass, soda and water are just $2 and food prices and portions will vary by vendor.
The Unlimited Sampling ticket is the most popular option. This ticket gives you all the perks of the General Admission ticket, and also includes a commemorative sampling glass that entitles you to unlimited samples from the up to 40 craft breweries and 100 varieties of wine from around the globe. The Unlimited Sampling ticket runs $50 through the end of May (the price increases to $60 on June 1). Don't fear, the DISH has you covered. Visit FoodWineandMusIcFestival.com and enter code "DISH" to receive $10 off!
For the ultimate red-carpet experience, step up to the VIP treatment. Limited to the first 500 purchased, this ticket offers everything that the Unlimited Sampling ticket provides plus exclusive entry into the Grand VIP Pavilion. You'll enjoy Killer Dueling Pianos, shaded seating, private restrooms, a complimentary meal from the selected event caterer, unlimited bite size samples from participating restaurants in the Pavillion, and complimentary full glasses of wine and beer. VIP tickets run $125 until the end of May (tickets increase to $150 on June 1). Be sure to purchase early and enter code "DISH" to save an additional $10. Buy now; VIP tickets sell out quickly.
Getting There
By far the best way to get to the event is through Uber or Lyft, which can drop you off right at the front steps of the event. If you plan to drive, free parking can be found along Stonehill Drive, Niguel Road, or Pacific Coast Highway. Paid and metered parking is available at the Salt Creek Beach parking lot with a short walk through the tunnel that runs under PCH. You may also park at Dana Hills High School and shuttle to and from the event; the ride to the Festival is complimentary and a $5 ticket can be purchased at the event box office for the ride back to the high school. The Dana Point city shuttle or the Laguna Beach trolley are also great options; both will drop you off at the Salt Creek Beach parking lot just steps from the event. See you there!