by Veronica Badzey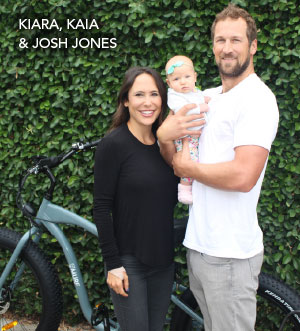 Murf Electric Bikes opened its new retail shop in San Clemente in March of this year, and business is already booming. CEO and Founder Josh Jones started the company with business partner Alan Kang, after his first e-bike broke and the manufacturer refused to honor the warranty. "I knew we could build a quality product with better customer service," says Josh, "and still make it affordably priced."
Murf puts quality first, using the same components as big retailers, but with bigger, more powerful batteries than most of its competitors. With 750 watts of power and a 48-volt, 15.6-amp Samsung Lithium Ion battery, Murf e-bikes are right at the California limit to be considered street legal. Every bike is hand-assembled, in store, by the Murf team. The company offers free delivery to San Clemente residents, many of whom will appreciate a Murf e-bike's ability to effortlessly tackle the area's many hills, as well as bypass limited parking and traffic congestion. 
Convenience is just one of the many benefits of electric bikes, which allow riders to travel further distances and in much less time than traditional bikes. A Murf e-bike has an average range of 30-35 miles, depending on the rider's weight and the terrain, and are perfect for cruising around town, commuting to work, and off-roading on dirt trails or sandy beaches. "Many consumers are trading in their cars for an e-bike," relates Josh, "because of the convenience and cost-savings for local commuting. And," he adds, "they're just plain fun."
The Murf family of Class 2 and 3 electric bikes offers three drive modes: 1) Full Electric, which acts like a motorcycle and requires no manual pedaling; 2) Pedal Assist, which gives an extra boost of power as you pedal; and 3) Manual Pedaling, which works like a regular bike. For a great, all-around premium ride, check out the Izzy Beach Cruiser or, its sister, the Pax Step-Through Cruiser. Both models are lightweight, agile, and extremely comfortable. Great for cruising or commuting, they reach a maximum speed of 20 mph, and provide superior maneuverability for navigating hills and city riding. If you're looking for something more rugged, perhaps the Fat Murf, with extra-wide 4-inch tires is the one for you. It's equipped with a sturdier frame and reaches speeds of up to 25 mph on flat surfaces.
All three models feature hardened aluminum alloy frames, premium Tektro front and rear disc brakes, a Bafang rear hub motor, and an integrated digital display that provides readouts for speed, distance, and battery level. Recharging is easy; simply plug into any standard 110-watt wall outlet, and you'll be ready to ride in a modest 6 hours. Murf e-bikes are also fully customizable with a range of useful accessories, including surf racks, rear racks, and rear baskets.
Murf handles all of its warranty service in-house, guaranteeing that you'll never get the run-around should there ever be a problem with your e-bike. All bikes come with an industry leading 2-year warranty on the bike and battery, plus free tune-ups for all of their loyal customers. Maintenance is the same as a standard bike, and the battery lasts for approximately 700-1000 charges, or about 2 years of every day use. Riders are reminded to obey all bike and traffic laws, and observe safety precautions such as wearing a helmet (legally required when riding the Fat Murf).
The true star of Murf Electric Bikes is Josh's friend and company mascot Murf, a rescue dog he adopted nine years ago from a local shelter. He lives with Josh and his wife Kiara in San Clemente, where they recently welcomed the newest addition to the family, baby girl Kaia Harper Jones.
The best way to experience a Murf e-bike is to test drive one for yourself or to rent one for an afternoon. Murf Electric Bikes is located at 212 N. El Camino Real, Suite B, behind the Grill at Surfin Donuts and across the alley from Nomad's Canteen. Hours of operation are Monday through Saturday from 10 a.m. to 5 p.m. Ride on!
Murf Electric Bikes  •  212 N El Camino Real Suite B, San Clemente  •  (949) 370-3801  •  MurfElectricBikes.com