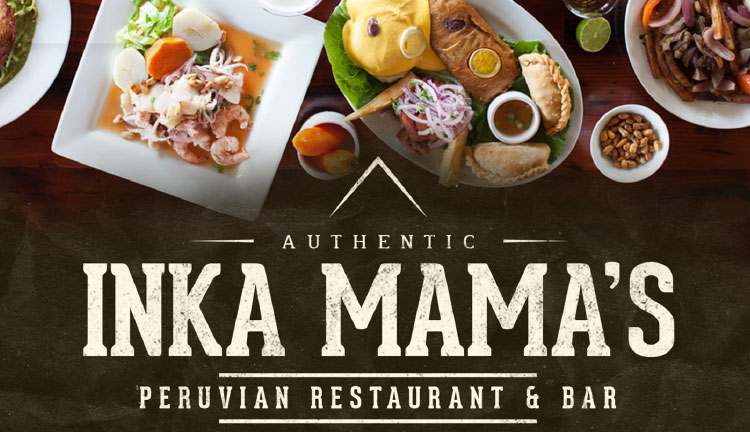 Inka Mama's
by Claire Cote
Although I haven't had the pleasure of traveling to Peru, I feel like a connoisseur of its cuisine after my inaugural visit to Inka Mama's. Located in San Clemente's Talega Village Center, this cozy establishment will have you feeling like a South American tourist who stumbled upon a local, hidden gem from the moment you step foot through the front door.
Breaking away from the ubiquitous, yet hackneyed "New American" cuisine, this Peruvian eatery brings traditional recipes, fresh ingredients and zippy cocktails to the forefront, without sacrificing affordability or style.
My dinner companion and I sampled our way through the happy hour menu with gusto. I fell hard for the Causas, a layered stack of potato cakes and chicken salad, while my friend was over the moon for the Shrimp Empanadas — impeccably prepared pillows of buttery crust and saucy shrimp. We were both in love with the seductive, green aji sauce, a Peruvian staple which is used for dipping, slathering or as an additive to just about any dish on the menu. This punchy salsa was perfect for spreading on rolls, dipping a Yuka (sweet potato) fry or drizzling over your entire plate. A veritable wimp in the face of anything remotely spicy, even I didn't mind my burning lips after my 10th helping. 
The Croqueta Sliders were impossible to resist. These top sirloin patties served on sweet bread and adorned with a tomato slice, chili mayo and a side of sweet potato fries, were tasty and well prepared. The Chicharon de Pollo is not your mama's fried chicken! Marinated in garlic and spices and then deep fried, this tender meat packs a crispy texture and exciting flavor.
Inka Mama's offers happy hour Monday through Saturday from 4 to 7 p.m. and all day Sunday. Enjoy house wines and Sangria for $6 a glass and discounts on select appetizers. The bar is stocked with local beer on tap, the food is adventurous without being intimidating, and the mood is on point when the sun goes down and the bistro lights come on. With additional locations in Aliso Viejo, Foothill Ranch, and Santa Ana, there's always tasty Peruvian fare right around the corner. ¡Salud!
821 Via Suerte, #104, San Clemente
949.369.6262  •  InkaMamas.com