Design to Sell
By OC Real Estate 411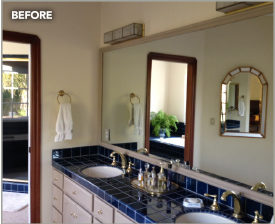 It's a brave new world of real estate. While staging a home for sale has become increasingly common, OC Real Estate 411 has taken it to the next level. Their Design to Sell model is giving home sellers astounding returns, setting home sale price records and making traditional real estate marketing an antiquated concept.
"Everyone needs Design to Sell," states Robyn Webb, Owner and Broker of OC Real Estate 411. "The way we design our home to live is far different than how a home should be designed to sell." Webb has an MBA from USC and is also a certified interior designer. "In traditional real estate, the agent encourages the homeowner to de-clutter and move some items into the garage. Then, the agent brings in a photographer and puts the photos on the Internet. In order to grab a buyer's attention, the photos have to be stunning, and that must start with the design of the house itself."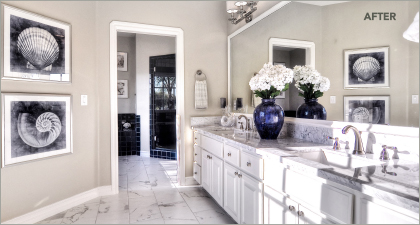 Steve and Carolyn Fowle, of San Juan Capistrano, were blown away by the results. "After listing our home for 5 months with another broker, we decided to take the Design to Sell plunge and we called OC Real Estate 411. After a $31,000 investment, we sold our home for $400,000 higher than the best offer we received with the previous agent. What's more incredible, Robyn sold our home in less than a week! We now know that what Robyn is doing with Design to Sell is truly a game changer and the only way a home should be sold."
The Design to Sell concept is a value-added service that works for a wide range of homeowners, with varying goals, that may have a budget as low as $500 or as high as $50,000. This mini-makeover starts with an unbiased, third-party valuation of the home's market value. The OC Real Estate 411 team then assesses the home and recommends changes that will have the greatest buyer emotional impact on the home's sale value. From there, Robyn and her team execute the new design. The results are impressive. The majority of homeowners have sold their homes in 30 days or less, and for prices that well exceeded expectations. "Most of our clients get at least 3 times their return on investment," Webb states. "We don't take lightly that we are asking homeowners to make a big investment and permanently change their home — they need to be serious about selling and they need to trust the process."
HGTV shows like Fixer Upper and Property Brothers have changed homebuyers' expectations. For those buyers that don't have the time or funds to take on these transformations, Design to Sell meets an unmet need, and makes the property stand out against the competition. For those that do want to try a fixer upper, OC Real Estate 411 does the reverse business model as well. Referred to as "Orange County's Joanna Gaines" by her clients, Webb enjoys helping homebuyers purchase a fixer upper and transform it afterward into their dream home. "Our home appraised for $265,000 more than the purchase price after we invested a fraction of that with Robyn's fixer upper program. We now have our dream home and are sitting on a pile of equity," states Darlene Jones of Laguna Niguel.
Webb's business is rooted in ethics and integrity, as evidenced by her Champion of Home Award, presented by the California Association of Realtors. Of approximately 500,000 real estate agents in California, only 1-3 are designated with this prestigious award each year, which recognizes ethics, professionalism and overall exemplary conduct of a Realtor®. With over $200 million sold, Webb strives for every client experience to become a client for life. "This isn't a job for me", she says, "It's a labor of true love."
OC Real Estate 411
949.359.6572 | OCRealEstate411.com