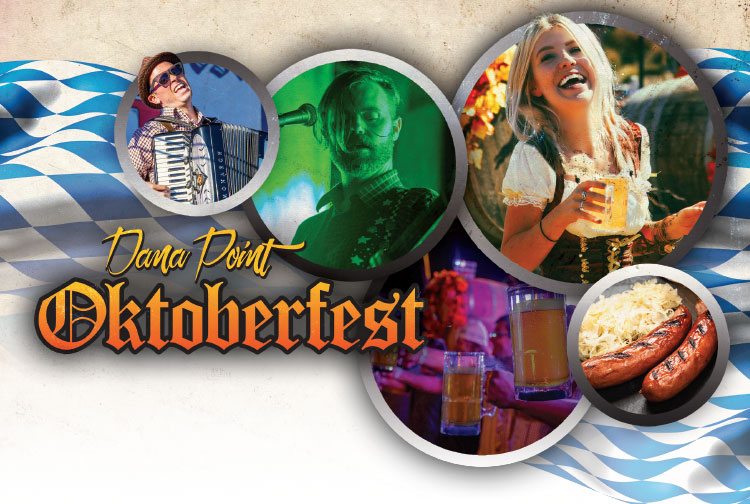 Dana Point Oktoberfest
Saturday, October 7th from 12 p.m. until 7 p.m.
Dana Point's 4th annual Oktoberfest captures the true spirit of the season, combining German food, music and dancing with a bit of fun in the sun. This time-honored folk festival, which originated in Munich in 1810, delivers the Bavarian traditions you'd expect with a California-style twist!
"We're here to celebrate!" enthuses Master of Ceremonies Peter Melton, or the "Pieter Meister," as he is affectionately called throughout the event. "Plan to come early and stay late. We always have a rockin' good time!"
The free, family-friendly event is produced by Eventwerks in conjunction with the City of Dana Point, and has been growing in popularity since its inception three years ago. Last year, thousands attended the festival, partying until the end of the day and drinking up every last bit of tasty German beer. This year, the same tempting array of authentic German Bratwurst, Knockwurst, German potatoes, sauerkraut, sweet treats, pretzels (the Pieter Meister's favorite), and of course, plenty of beer – including at least 15 varieties of premium German and American brew, plus wine and non-alcoholic beverages for the kids, will be on hand.
Kona Brewing Company, along with Munich's Famous Spaten Beer, will take center stage as sponsors of the 2017 celebration. Admission to Oktoberfest is free. Your first beer comes in a 16 oz. commemorative mug for $20; refills are $10. Several purchase options are available for those who prefer wine.
It wouldn't be Oktoberfest without festive music! The Kalifornia Krauts, one of OC's favorite German bands, will liven things up with a unique Oktoberfest Polka-Billy musical style. Games include musical chairs for the kids, the hilarious and now-famous sausage toss, the ever-popular chicken dance, a sauerkraut eating contest, stein holding, and beer chugging. The festivities also feature sing-a-long songs and a dance party, lending this traditional German folk festival a distinctly American flavor.
"Part of what's made our Oktoberfest event such a success," shares Peter, "is how we've combined German tradition with good, old American fun. I've had people come up to me, even traditional people who've been to Oktoberfest celebrations for years, and tell me they prefer ours greatly."
Sea Terrace Park in Dana Point provides a stunning venue, with gorgeous ocean views of Salt Creek Beach, fresh sea breezes, grassy park areas where the kids can run around and play, and an abundance of picnic tables. For a close-up view of the stage and the Pieter Meister's crazy brand of German-American fun, arrive early to get the best table. Many attendees come dressed in costume, but if you happen to forget your lederhosen, vendors will be selling gear and souvenirs on-site.
Most of all, come prepared to have a good time. Whether you're German or American, have attended Oktoberfest every year or if this is your first one, you will find something to enjoy. Starting with the playful opening ceremony and tapping of the keg, the day promises a boisterous good time with family and friends, and hilarity as revelers dance, sing, and toast to the bounty of the harvest season. As the Pieter Meister says, "The dance party at the end, as it's getting dark, is worth the trip alone!"
Dana Point's Oktoberfest runs from 12 p.m. until 7 p.m. on Saturday, October 7th. Free parking is available on Niguel Road and Stonehill Drive, and on Pacific Coast Highway along the park. Salt Creek Beach offers parking for a fee, or if you are feeling a little VIP(ish), you can always valet at the Monarch Beach Resort. Uber and Lyft are good options and make sense after a day of taking in Oktoberfest. For more information on parking, visit the website at DanaPointOktoberfest.com.