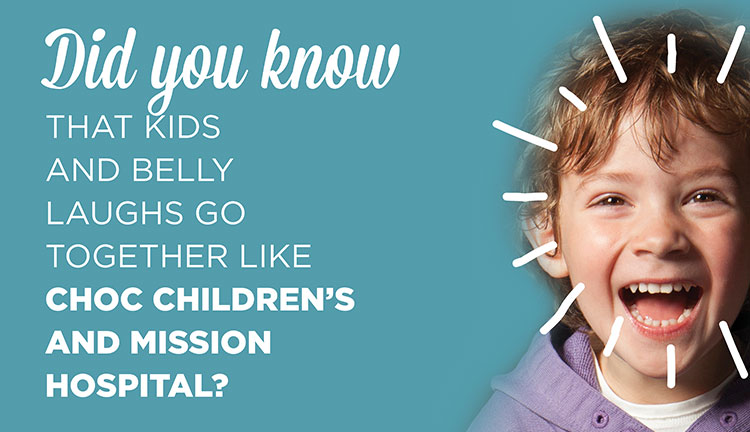 CHOC Children's at Mission Hospital
The only dedicated pediatric hospital in South Orange County
Every baby is precious. Some arrive right on time with no complications. Others need a little more help entering the world. These tiniest lives, and their mothers, are in the best hands at CHOC Children's at Mission Hospital, the only dedicated pediatric hospital in South Orange County, the surrounding coastal areas and north San Diego County.
A "hospital within a hospital," CHOC Mission tends to the emotional and practical needs of its little patients and their caregivers, coupling compassionate care with the latest technologies to ensure the best outcomes for mothers and their babies. They work in partnership with maternal-fetal medicine specialists at Mission Hospital, where more than 3,000 babies are welcomed each year, including those whose moms have had complicated pregnancies and deliveries.
"Carrying a baby is an incredibly exciting time but it can be stressful as well, especially for women who are having a complicated pregnancy or who have faced challenges in their previous pregnancies," says Dr. Vivien Pan, director of Mission Hospital's Perinatal Diagnostic and Treatment Center (PDTC), which provides care to women with high-risk pregnancies. "At Mission Hospital and CHOC Mission, we're uniquely equipped to help guide women through their pregnancies, keep them and their babies healthy, and deliver expert care when it's needed."
Catherine and Luke Steen of Ladera Ranch understand how important it is to have such compassionate care close to home. The couple had endured a miscarriage and then the loss of their baby, Ella, who died just four days after birth from a serious lung condition. When they discovered they were expecting for a third time, they found Dr. Pan, who closely monitored the pregnancy.
"As soon as I found Dr. Pan, I knew I was in good hands. I could tell immediately how incredibly smart she is in her field," Catherine says. "She is compassionate and makes me feel comfortable. I wanted desperately to be a mom, and there was a time in my life when I wasn't sure that was going to be possible."
At 34 weeks, Catherine went into pre-term labor with twins. The babies were cared for in the NICU at CHOC Mission.
"In partnership with our laborist and the CHOC Mission neonatal intensive care unit, we were able to deliver her babies safely and see them through to health," Dr. Pan says.
Now the mother of three beautiful daughters, Catherine looks back with gratitude.
"I am so incredibly grateful for Dr. Pan and the team at Mission Hospital and CHOC Mission for caring for us, guiding us and helping us fulfill our dream of bringing our babies home," says Catherine.
With a labor and delivery staff that holds the safety of both mother and baby as the highest priority, Mission Hospital is the place women can count on when they need help with a complex pregnancy.
Ask your ob/gyn about getting a referral to a maternal fetal medicine physician if you are pregnant with more than one child, if you are over the typical age for giving birth, or if you have a history of complications. Miscarriages, early labor or delivery, or health conditions like diabetes or thyroid disease, can affect later pregnancies.
"If you have struggled with pregnancies in the past or have a history of premature delivery, you need extra care the next time you are expecting," says Dr. Pan. "When we see a mother who has experienced something like that, our goal is to make sure with the subsequent pregnancy that both mother and baby are healthy. If we can do that, we know we've done something wonderful for a family."
Healthy mothers and happy babies get their start at Mission Hospital and CHOC Mission. Pre-register early in your pregnancy, and welcome your newest family member with the support of Orange County's leading maternity center. Call Mission Hospital at (949) 364-1400, or visit mission4health.com.