C.H. Anderson Construction
Craig Anderson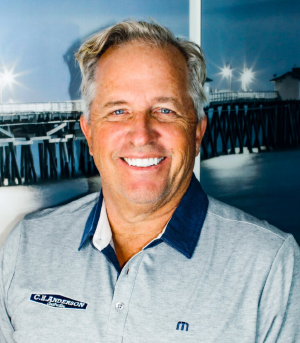 MEET YOUR CUSTOM HOME BUILDER
As a fourth-generation builder in La Canada Flintridge, the Anderson name is not only associated with top quality work, but also integrity. That integrity is the driving force behind the high standard of work and professionalism that results in countless referrals from highly satisfied clients.
MEET C.H. ANDERSON
In 1934, Nephi Anderson moved his family from Alberta Canada to Los Angeles on special assignment from his church to build chapels and grow the local congregation. Upon completion, he elected to stay in Southern California and start a construction development company. He and his five sons found tremendous success building some of Southern California's very first sub-divisions. In 1958, the company was eventually turned over to his oldest son, Blaine, and renamed Deseret Construction. Following in his father's footsteps, Blaine groomed his four sons to enter the contracting field. Eventually, all of them split off and formed their individual companies throughout California. C.H. Anderson Construction was formed by his middle son, Craig Hales Anderson.
Craig has had tremendous success over the years in residential and commercial development. Having built over 200 homes, his creativity, vision, attention to detail and drive is what separates him from other contractors. Craig now oversees the company as General Manager and his oldest son, Trent, handles the day-to-day operations. The history and pedigree of four generations of builders is what makes this company so unique. Nothing brings Craig more joy than watching his sons, Trent and Chad, continue the family legacy.
C.H. ANDERSON'S CUSTOM HOMES
As one of Southern California's premiere builders, C.H. Anderson Construction specializes in everything from residential and commercial builds to remodels and landscape design. With over 30 years in the business, they know construction and how to get your job done quickly and cost-effectively. The Anderson family would consider it an honor to work on your construction project.
C.H. Anderson Construction
2122 S El Camino Real Unit E, San Clemente
949.606.4142
chandersonconstruction.com