Barre3
Goodbye Limits.
Hello Results.
by Veronica Badzey
If you're looking for an exceptional workout in Orange County that is unintimidating and yet delivers visible results, then you're overdue for a class at Barre3. Known for its philosophy of balancing mind and body, the classes combine the three disciplines of ballet, yoga, and Pilates to energize, strengthen muscles and improve flexibility. Far more than a gym, Barre3 is a community where people from all walks of life come to get fit, make connections and develop lasting friendships.
Co-owners Jessica Leonard and Nicki Insley opened their Laguna Niguel studio three years ago, adding a second location in San Clemente last year. Part of the national Barre3 network, both locations offer bright, clean workout rooms, a friendly staff, and a childcare center so that parents can attend a class even with kids in tow. The San Clemente studio has a soothing view of the ocean, enjoyed by participants as they cool down at the end of one of Barre3's heart-pumping workouts.
Sadie Lincoln, a former executive for 24 Hour Fitness with 20 years of experience in the industry, developed Barre3 for those who were burned out on the traditional, hard core approach to exercise. With more than 100 locations across the country, Barre3's growth can be attributed to an effective workout that generates proven results while being gentle on the body. Sixty minutes from start to finish, a typical Barre3 class is an intense, full body workout that builds strength, flexibility, and stamina, through a series of mindful, low-impact exercises designed to create long, lean muscles, a strong core and optimal postural alignment. The ultimate goal is to have you feeling strong and balanced – inside and out.
"I'm constantly humbled by it," says Nicki, "It's a crazy hard workout, and yet it's kind on the body at the same time." Self-proclaimed "gym rats," Jessica and Nicki are no strangers to the fitness world. "I used to push through injury all the time," Nicki explains, "I would beat my body up in the gym every day, then go home drained, exhausted, and feeling bad about myself."
Jessica first found Barre3 through the company's online workouts, one of the largest and most popular online platforms in the industry. Hundreds of workouts are available for streaming from an online video library, with weekly updates from instructors, master teachers, and studio owners across the country. The online community is also a valuable resource for recipes and motivational tools that help achieve a balanced, healthy lifestyle.
Barre3 takes its name from its innovative three-part formula: 1) The Hold – firing muscles through correct body alignment; 2) Move Small – bringing muscles to the point of fatigue and integrating the core; and 3) Move Big – large range movements that flush the body and increase heart rate. Most Barre-style workouts don't include Step 3, which increases "functional strength" by mimicking movements used in daily life. This multi-layered approach produces stellar results in a remarkably short time; most clients who attend class consistently experience a positive change in as little as two weeks.
Instructors encourage modifications to the workout, providing personalized solutions for each client so they can achieve the ultimate burn, no matter their current fitness level. "You meet yourself where you are that day," says Jessica. "We have people come in who have never worked out a day in their lives, and next to them is a 22-year-old marathon runner, and it is challenging for both of them." Barre3 offers pre-natal and post-natal workouts, and often works with clients who are post-chemotherapy, post-cancer, or recovering from injuries or accidents.
The benefits of the method go far beyond the physical rewards of weight loss, increased muscle tone, and improved posture. "People walk out the door with so much energy," Nicki enthuses, "ready to conquer their day. It creates a ripple effect that extends into the rest of their lives."
Now is a great time to start. Barre3's $99 new client special gives you unlimited classes for a month. For a smaller class sampling, the 3 for $40 deal offers an enticing incentive
to get moving. So what are you waiting for?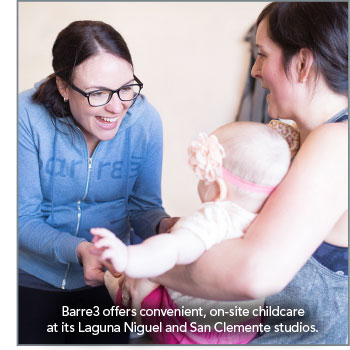 For more info, visit barre3.com.
23882 Aliso Creek Rd, Laguna Niguel  |   949.328.9633
638 Camino De Los Mares, San Clemente  |  949.429.1738