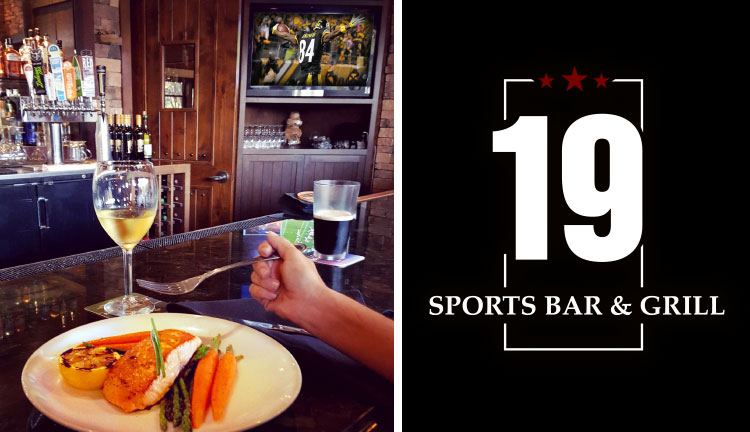 19 Sports Bar & Grill
by Dina Scaglione
Football and fried wings are ubiquitous in south OC sports this time of year, where folks gather to cheer on their favorite uniformed team and craft beer is consumed like water. Then there's 19 Sports Bar & Grill at the San Juan Hills Golf Club, reminding us why we are drawn to the infectious energy, experienced only at a local pub.
19 Sports Bar & Grill is a lively, upscale tavern, where spent golfers and spirited sport fans come to find camaraderie and delicious fare, after a long day, either at the office or on the course. A local hidden gem, recently updated with river-rock textured walls and glass framed jerseys, 19 Sports Bar & Grill serves up spectacular views of lush green fairways and savory comfort foods, a varied selection of craft beer and hand-crafted cocktails daily. Happy Hour specials are also offered from 5 to 7:30 p.m., 7 days a week. Whether you saddle up to the bar or perch yourself at a high-top table, every seat offers an unobstructed view of your favorite sport.
Tired of the same old greasy bar food offered at many watering holes? Then you will delight noshing on the hearty cuisine from the expansive menu, including some unique twists on our old favorites. Yes, they still have your kidult faves like stone fired pizzas, loaded nachos and chicken wings. But wait until you experience the homemade meatloaf sliders — classic chili topped with cheese and onions (talk about comfort food) and mouth-watering, build-your-own burgers.
Still watching the NFL Sports package in your living room (boooring)? Why not enjoy it on 25 flat-screens along with your favorite pint, offered all day on Sundays. And for those who favor a little toe tapping with their libations, live entertainment is also featured Friday evenings from 7 to 10 p.m.
Whether it's a night out with friends or dinner with the family, there's a little something for everyone at 19 Sports Bar & Grill, including great tasting food, drinks for every thirst and inspiring views, all served up in a warm and friendly atmosphere.
19 Sports Bar & Grill is located at 32120 San Juan Creek Road in San Juan Capistrano. Visit www.19SportsBar.com for more info.