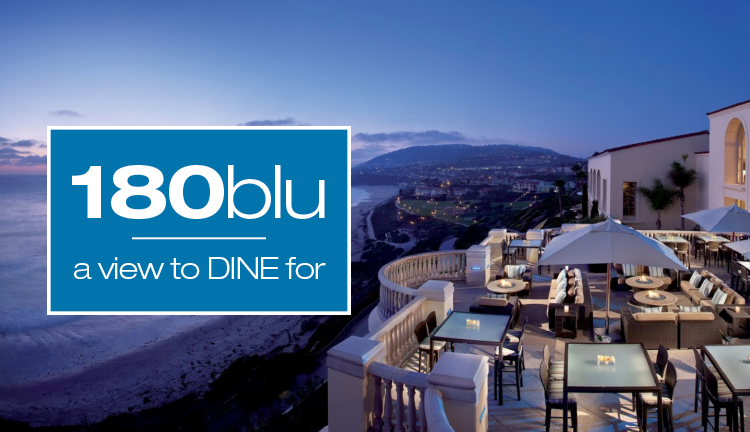 180blu
a view to DINE for
by Dina Scaglione
Poised on a cliff 150 feet above Salt Creek Beach is one of Orange County's most stunning views and the picturesque home of 180blu. Aptly named for its unobstructed views of the Pacific, the restaurant's sprawling, open-air balcony seduces guests the moment they enter and the comfortable ambiance and delectable fare keeps them coming back for more.
Located in The Ritz-Carlton Laguna Niguel, 180blu delivers the same five-star service the hotel is known for, in a more relaxed setting than you might expect. With inviting high-top tables and swallow-you-up sofas, it's the perfect destination for lunch, dinner or drinks, but often a difficult one to leave.
Come for the sushi, small plates and a glass of wine, but your taste buds will beg you to stay and enjoy a plethora of unique and tasty entrées. Comfort foods like grilled cheese on rustic bread offer a sophisticated version of the American classic that was always a childhood favorite.
Even non-sushi fans will fall in love with the namesake 180 Sushi Roll, featuring avocado, cream cheese and cucumber topped with charred salmon. I was personally smitten with the lobster tacos, complete with large chunks of tender lobster, avocado, and black bean salsa, served on small flour tortillas with a delightful de arbol sauce. And don't miss the bite-size-but-big-in-flavor spicy tuna rolls, on a cylinder of toasted rice and topped with a tangy eel sauce.
Another scrumptious dish worth writing home about is the delicious pan-seared shrimp. Glazed with a blend of Piloncillo, an unrefined Mexican sugar, and a spicy peanut sauce topped with cilantro and candied pepitas. You'll be amazed by the slightly sweet, slightly spicy, but immensely flavorful taste. If you're looking for a light dinner with a decadent side, try the warmed spinach salad with loads of sautéed lobster and wisps of crispy sweet potatoes. I capped off the evening with 180blu's famous churros, served alongside coffee ice cream on a crumbled cookie bed, anchored by a golden trail of caramel. Light and cinnamon-y, it's the ultimate way to end any meal.
Talented 180blu mixologists serve up hand-crafted cocktails and signature drinks, along with an extensive wine list and a variety of beers. Live music is featured Thursday through Saturday, from 6 to 9 p.m., weather permitting. The sushi bar is also offered Thursday through Saturday, from 6 to 9 p.m. And if you feel chilly, the friendly staff offers cozy blankets to keep you warm and toasty.
180blu  |  One Ritz-Carlton Drive  |  Dana Point  |  RitzCarlton.com